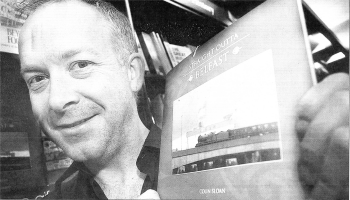 Colin Sloan with his new book of poems.
A RAPIDLY rising star of Northern Ireland's literary scene from Drumbeg has once again joined forces with one of the province's best known press photographers to produce their second collection of poems and images.
'Straight Outta Belfast' by Colin Sloan, a member of staff at Waterstone's in Bow Street and former newspaper picture editor Brendan Murphy takes a thought provoking and moving look at aspects of life in the city during the early years of the 21st century.
The second book by the two men who became friends during Mr. Sloan's 16 years at Waterstone's Royal Avenue branch repeats the highly successful formula of their first collaboration 'From Lambeg to the Drum' with the poet's words giving voice to the photographer's images.
Each of these images captures a precise slice of life in a city where the physical scars of almost four decades of conflict maybe fading but the mental scars remain.
The photograph and poem entitled 'Farewell to Arms' sums this situation up perfectly. The image shows a mid morning scene in a Donegal Street cafe but is dominated by a newspaper poster on a lamppost outside which reads 'IRA farewell to arms'.
At a table by the window are two elderly ladies. In one of the verses of the accompanying poem Mr. Sloan articulates the thoughts of many people of their generation in which they appear to address the violence which maintained a stranglehold on the city for so many years.
'Where did the time go, what were we thinking?
You were the backdrop that stole my looks and youthfulness
The soundtrack for my smokebreaks, always a dead certainty.'
Other poems and their accompanying photographs reflect how the traditional continues in a rapidly changing environment.
The image entitled 'Behold the Cloth of Angels' shows people leaving St. Mary's Church in Chapel Lane after an Ash Wednesday service - a scene which has been repeated annually since the historic place of worship opened in 1784.
However, in his poem Mr. Sloan reflects how noise levels around the church which now stands close to the Castlecourt Shopping Centre have increased over the years.
'The Call to Mass competes with the drone -
The reversing bin lorry beyond the door;
Chapel Lane is a bottle neck of rolling barrels,
automated shutters, delivery vans and trinket stalls.'
The book features a total of 30 photographs and poems
In his preface Mr. Sloan explained: "What we have tried to compile is a snapshot of daily life for a set of very different individuals and related places we might be very familiar with already, but that have been embellished through these atmospheric photographs and given me a tale to tell.
"Many of these characters and places are vulnerable. We can only try and document them here so they are not forgotten."
The foreword to 'Straight Outta Belfast' is written by Michael Faulkner who said the book would 'strike a chord' with anyone who sees the city as 'an old friend who has been through a great deal and is emerging with bewildering haste into a bright but mildly unsettling future'.
'Straight Outta Belfast' is published by the Brehon Press and costs £9.99.