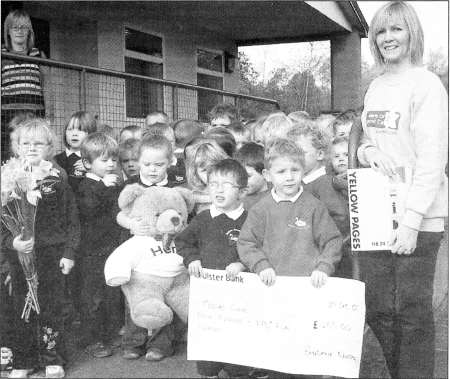 Amanda Scott, Marie Curie Cancer Cares Community Fundraising Co-ordinator, with staff and pupils from Barbour Primary School
CHILDREN from Barbour Nursery School in Lisburn have joined thousands of pupils across Northern Ireland to raise funds for Marie Curie Cancer Care's 'Fields of Hope' campaign.
This autumn, 74 schools across the Province are helping out by planting daffodil bulbs to create their own 'Field of Hope'.
Funds
As part of the campaign pupils will be raising funds for Marie Curie Cancer Care whilst learning about the work of the nurses who care for terminally ill people in hospices and in their own homes.
Tracey Cassells, principal at Barbour Nursery School, said: "The children have thoroughly enjoyed planting their daffodil bulbs and raising £457 for the charity.
"We're looking forward to seeing the flowers bloom in spring.
They will serve as a striking reminder of the important work carried out by Marie Curie's dedicated nurses."