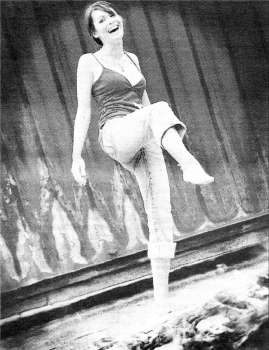 Carly Young prepares for the Cedar Foundation Firewalk.
THE Cedar Foundation is asking people from Lisburn to undertake a once in a lifetime challenge while raising funds for disabled people in Northern Ireland.
The latest exciting event from The Cedar Foundation is a Glasswalk and Firewalk Challenge, due to take place on Saturday October 20 at Hilden Brewery outside Lisburn.
You will be given exact times for the event once you have completed and returned your registration form together with your deposit. Friends will be welcome to watch the Walks (the training session is private) and if they wish to join you for the party afterwards tickets will be available for purchase from The Cedar Foundation.
Participants only need to pay a deposit of £25 to secure their place in the Glass walk or Fire Walk event and then raise a minimum of £150 in sponsorship. If they want to take part in both events the deposit is £40 with a minimum sponsorship of £260.
To receive your registration form or request further information please contact Christine Tweedie on 9066 6188, email c.tweedie@cedar-foundation.org.