by JULIE-ANN SPENCE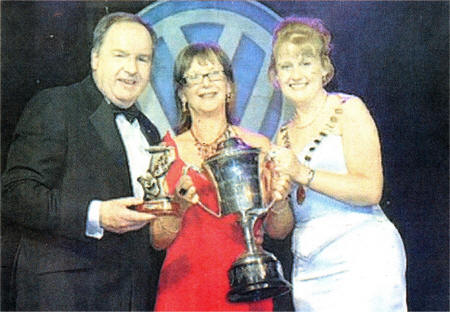 Anne McCleary, Chairperson of Fusion Theatre, is presented with the trophy by Fiona Sheerin ( President of AIMS) and Tom O'Connor Sales Manager of WDL Volkswagen (Ireland) the principal sponsors of AIMS. US2607-AIMS 1
FUSION Theatre has scored a hat trick in the prestigious Association of Irish Musical Society Awards Ceremony.
Representatives of the Lisburn group travelled to Killarney for the ceremony knowing they had been nominated for three awards in the Sullivan category Best Male Voice (Nick Parks); Best modern Opera; and for the prestigious Spirit of Aims Award, for "uniting children across the sectarian divide through musical theatre."
To the delight of the group, they won all three against stiff competition from amateur musical groups all over Ireland.
| | |
| --- | --- |
| | |
| Nick Parks received the award for best male singer from Fiona Sheerin and Tom O'Connor | Musical Director Ian Milford presented with the award for Best Modern Opera by Fiona Sheerin |
It was even more spectacular for the local youth group, because it was competing against dozens of other groups, mostly adult, and in Fusion Theatre's case, for the first time.
The awards all related to their production of Jesus Christ Superstar last September which, was directed by Ian Milford and choreographed by Rebecca Leonard. It featured Chris Milford as Jesus, Nick Parks as Judas, Joanna Hyndman as Mary Magdelene, Raymond Walsh as Herod, and Graeme Clark as Pilate.
Nick Parks has already embarked on the start of his quest for fame as he reached the final of the BBC search for a Joseph in Any Dream will Do', and was praised by both Andrew Lloyd Webber and the legendary Bill Kenwright.
Nick hopes to follow his dream to a career in music, but before he leaves to study music full-time he will be reprising his performance as Judas in the Island Hall on September 6-8, when Fusion Theatre mounts the famous musical one more time, in advance of taking part in the legendary Waterford International Festival of Light Opera on September 25.
Tickets, costing £10 , have just gone on sale, and are expected to sell out very quickly.