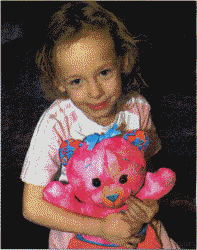 Georgia Cocking
A LITTLE Lisburn girl who had a bone marrow transplant a month ago is expected to get out of hospital this week.
Georgia Cocking (5) is making such a remarkable recovery that her parents believe that she could be out of Bristol Hospital, her home for six weeks, by Friday. If all goes well she could be back at her Maze home with her brother Liam within the next fortnight.
Mother Debbie has already been told Georgia is leukaemia-free and an all important test this week to test her bone marrow will determine if her body has accepted the donor's bone marrow.
Georgia was suffering from chronic Myeloid Leukaemia, a rare condition in children and discovered only four months ago. After a worldwide search by the Anthony Nolan Trust a bone marrow match was found in America.
Unfortunately this week Debbie has not been allowed in the isolation room with her daughter because she has a cold. Dad Gary has been with Georgia but he is suffering from an allergic reaction and had to call his mother to make a four hour journey to Bristol to help out.
Georgia, who has para flu which is causing her to sniff and cough, is keeping everyone spirits up and is eager to get home.
She has been told she can come out of isolation this week but Debbie is cautious and wants her to remain inside until she is off medication - G-CSF (granulocyte-colony stimulating factor) an haematopoietic growth factor that works by encouraging the bone marrow to produce more white blood cells.
If all continues to go well she will be in remission for up to five years before she gets the all clear.
"She is bouncing at the moment but that's her personality, said Debbie. "She's a bit cheeky which shows me she is getting better.
"Everyone is really pleased with her progress. Although I'm not allowed in with her I keep in touch by phone. "We were playing hide and seek in her room the other day and she locked me in the bathroom. She pushed the scales against the door and told me she was going to leave the room. That's the sort of antics she gets up to."
Georgia is on nine different medications per night. When she leaves for home she will remain on medication as well as a strict diet - meaning none of her favourite McDonald's - for six months.
And she'll be leaving the hospital in style with a choice of two hats - her mother has a pink cowboy hat for her, while the ladies in the radiotherapy department have bought her a lovely hat with horses on it.
Debbie said the family are looking forward to getting back home.
"We just want to be back to normality again," she said. "We miss home and want to be back with the family, especially Liam who we all miss.
"Everyone has been sending their good wishes and prayers. Hopefully our prayers have been answered."