Just months after a bone marrow transplant, Maze girl is ready to start P2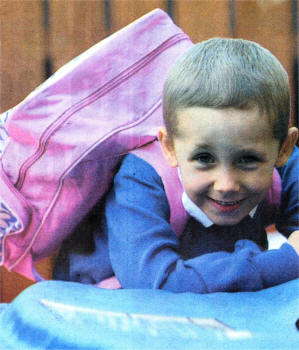 Georgia all ready to go back to school on Monday.
THERE will be lots of excitement and not a few nerves at homes across Lisburn this weekend as children prepare to start the new school year. But for one little Maze girl Monday is going to be extra special.
Georgia Cocking (5), who will start P2, has not been at Killowen Primary School since March after she was diagnosed with a rare form of leukaemia.
But after a worldwide search by the Anthony Nolan Trust a bone marrow match was found in America and Georgia underwent a transplant in Bristol some weeks later.
Two weeks ago Georgia spent four days in hospital after suffering a bout of shingles and mum Debbie thought she couldn't go back to school until nearer half term, but she has now got the go ahead to join her classmates next week.
"She has been waiting for this day for so long," said Debbie. "It's good to get a bit of normality back into her life. "
And Monday will also be a big day for Debbie who will be returning to full time employment.
Georgia will still continue her weekly blood tests and will have a six month assessment at Bristol Hospital in October when the family hope to hear the transplant has remained a success.
Debbie said: "Georgia is doing well. The only thing that we have to look out for are conditions like the chicken pox, shingles and the measles at school.
"She is just looking forward to the interaction with other children again and making new friends and seeing her teachers. She has missed all that so much.
"She missed most of P1 and we had the option to repeat it but she had made so many friends that we decided it best to start P2."
To make sure that the children at her school never forgot her, her teachers placed a picture of Georgia on the wall
"They all know who she is and that she was not every well," said Debbie.
Georgia now hopes to get back to her beloved horse riding at Limepark in Maghaberry in October.
Georgia's mum thanks donor
GEORGIA'S mum has written to the anonymous donor who helped transform her daughter's life.
Debbie Collins wrote to the American man and plans to keep updating him on her daughter's progress every three months. She was warned many donors never make contact, but she felt it was important to acknowledge what he did. "It was hard to write a thank-you letter without putting names and details," said Debbie. "You cannot put anything in the letter that might identify her in any way but I felt it important to get in touch. I have not heard back but I plan to write to him again. I sent him a letter and a card just thanking him for all that he had done for us.
"We were told by the Anthony Nolan Trust that some people just do not want to get in touch. Some people just want to help someone else and that's it. He might just want to do that which is fine. We are just so glad he took the time to do what he did."
Next year Georgia and her family are hoping to go on a dream trip to Paris.
A relative contacted the Starlight Foundation and asked if they could grant Georgia a wish.
At first she wanted a horse but then changed her mind and decided instead she wanted to travel on Cinderella's carriage. She has now been told she and her family will be going to Disneyland on a three day trip at Easter.