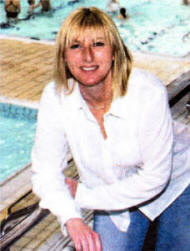 THOUSANDS of viewers saw a Lisburn woman help the star of a new TV series, fulfill one of his life-long ambitions.
Last Friday night, local swimming instructor Gill Bann appeared on the BBC programme `Derek's Dreams', helping Fermanagh farmer Derek Thornton , 57, learn to swim. In the hilarious six-part series Derek fulfils his lifetime's dreams he has missed out on during his life on the farm.
Gill literally threw Derek in at the deep end as she taught him the doggie paddle al Lisburn Leisureplex before he donned a wet suit to dive with the Great White Sharks in South Africa.
Mother of two Gill said: "I spent a week teaching Derek how to swim in Lisburn and then I went to South Africa as well. We had a ball. It was such a giggle and I really enjoyed teaching him."
She added: "I didn't have much time but Derek managed to pick up the basics. It was such a pleasure working with him and the film crew. I am used to teaching terrified adults how to swim and I thought he was very brave getting into a cage surrounded by sharks."
Producer Iain Webster said: "Derek is a typical 57-year-old farmer and hasn't had the time to do much in his life but he tackles each new experience with humour and energy, proving you're never too old to learn new tricks. Gill helped give Derek basic water confidence and the two of them got on well."