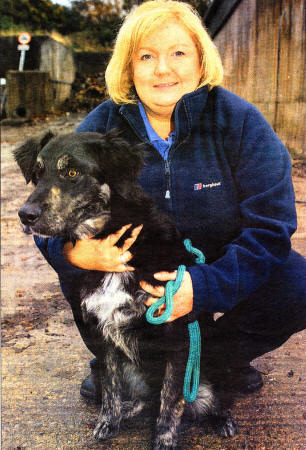 Lisburn Council Dog Warden Joanne Leathem with a stray dog who is looking for a new home.
LISBURN City Council is seeking homes for stray or unwanted dogs they currently have in their Dog Pound, including a one-year-old female Collie.
The Collie was found by local businesswoman Gillian Shannon last Saturday in Castle Street. "The dog was darting in and out of traffic in Castle Street and I was really worried she was going to get knocked down.
"I managed to catch her and took her to the pound but she desperately needs a new home. I would love to have her myself but I don't think my cat would be very happy about it.
"I would appeal to anyone who thinks they can offer this lovely dog a home to get in touch with the Dog Warden as soon as possible."
Roger Boyd, Senior Dog Warden added his voice to Miss Shannon's appeal. "Although the Council's Dog Control Service expresses caution to anyone considering getting a dog for Christmas, with just over four weeks left to Christmas any dog would be well settled in their new home in time for the festive period.
It is important to remember the well-known adage of 'a dog is for life'."
As well as the one-year-old female Collie available for re-homing, the Dog Pound also has a range of breeds and ages of dogs available.
There are also a number of older dogs that may be easier to settle instead of introducing a young puppy into your home.
If you decide to give a dog a home the Dog Wardens will be happy to offer advice and assistance to help you choose a dog to match your circumstances. When a dog is selected for rehoming it will be vaccinated, spayed or neutered and micro-chipped for a total of £15. There is also the additional cost of a one-year dog licence.
The Lisburn City Council's Dog Pound in Altona Road, is open between 12:30pm and 2:30pm Monday – Friday, or by appointment between 9.00am – 5.00pm. The Dog Wardens can be contacted on 9260 0804.