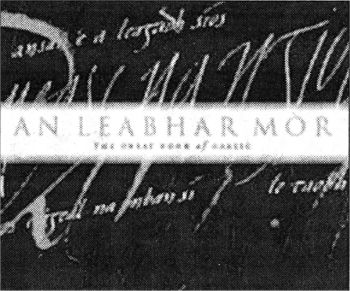 The cover of the Great Book of Gaelic.
A MAJOR art exhibition highlighting the cross community nature of Gaelic culture will take place at Lisburn Library this month.
' The Great Book of Gaelic' or An Leabhar Mòr' opened yesterday (Thursday) and is being marked with a number of events celebrating the shared Gaelic heritage of Ireland and Scotland.
The exhibition, which has already visited other parts of Ireland, Scotland and the USA, features the work of more than 200 Irish and Scottish Gaelic artists and poets.
It includes selections of poetry from 600 AD onwards alongside contemporary illustrations and calligraphy.
Local contributors include author Pól Ó Muir?, whose poem 'D-Day' recalls how his West Belfast aunt became a GI bride during the Second World War.
Twinbrook performance poet Gearóid MacLochlainns 'Paddy' is penned in urban Irish.
The 19th century poet John McCambridge is also featured. A Protestant and uncle of the first Lord Mayor of Belfast, he wrote a song in Antrim Gaelic about exile in Scotland called, 'If only I were in Articoan'.
The ULTACH Trust is one of the sponsors of the event. Development worker Gordon McCoy said: "The Gaelic link with Scotland challenges stereotypes. For nationalists, the Irish language is seen as an integral component of the Irish identity.
"Yet Gaelic is also spoken in British Legion Halls and in Presbyterian churches in Scotland. It is as common in Highland homes as in West Belfast and Donegal."
Rosie McDonald of Lisburn City Library said: "The book and exhibition feature different types of poetry as well as varying artistic styles and calligraphy. The poetry explores universal themes such as love, exile and homesickness - and in so doing, they provide snapshots of Irish and Scottish history.
'All the poems can be read in their original Gaelic and in English translation. We are expecting lots of interest - so anyone planning to come along needs to book first. There is no admission fee."
Tommy Sands of the internationally-celebrated Sands Family will be at the Library on Wednesday (November 14). Tommy is a singer-songwriter who helped create a worldwide interest in Irish music during the 1960's.
At a lunchtime event on Wednesday November 21 Presbyterian minister Rev Bill Boyd will relate his experiences of learning Irish and talk about a worship group which uses the language in Fitzroy Presbyterian Church.
And on November 24 a party of psalm singers from the Free Church of the Isle of Lewis will travel to Lisburn to sing.
The event looks to the spiritual poetry of the Psalms of David. Gaelic psalm singing is central to the worship of Presbyterian Churches in the Western Isles of Scotland. There, a style of community singing has grown up in which individuals create a beautiful and distinctive overall sound.
The events' programme ends on November 28 with a night of song and dance sponsored by the Ulster Scots Agency and Foras na Gaeilge.