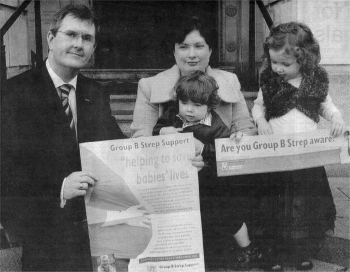 Lagan Valley MP Jeffrey Donaldson with Susan Kyle and her children Alice-Louise and Daniel.
A MAGHABERRY mother is calling on local representatives to support a nationwide campaign to prevent a deadly but preventable infection in pregnant women.
Susan Kyle, a volunteer for the charity 'Group B Strep Support' (GBSS), is urging people to contact their local MP and MLAs in a bid to make testing for GBS freely available to every pregnant woman.
Susan got involved after her own experience with the condition that affects 700 babies each year in the UK, killing 75 and leaving 40 with permanent brain damage.
When she was 10 weeks pregnant with her second child, Susan was told that she carried Group Bstrep.
"It was alarming and frightening at first. During the birth of my son Daniel, various precautions were taken to prevent him getting an infection.'
Daniel is now a happy and healthy 17 months old baby.
Susan continued: "After the shock, fear and total bewilderment of finding out about the condition and then going on to have a healthy baby, I became concerned that this condition is not routinely tested for in the UK during pregnancy. Staggeringly, many medical professionals are unaware of how GBS infection can be prevented, and most pregnant women have never heard of it. The US and many other European countries do carry out the test.
"We would like everyone in Lagan Valley to contact our local MP and MIAs and ask for accurate information about GBS to be supplied to pregnant women in Northern Ireland and a sensitive test for the condition to be offered on the NHS at 35-37 weeks of pregnancy. The Northern Ireland Assembly can make this happen."
This is UK Awareness Week for Group B Streptococcus and Lagan Valley MP Jeffrey Donaldson gave his full support the week.
He commented: "This condition can be quite dangerous for expectant mothers and their children and sadly has resulted in loss of lives in a number of cases.
"Hopefully, this Awareness Week will help to highlight the dangers posed by Group B Strep both amongst the medical profession and the general public. I would like to commend the Support Group in Northern Ireland for the excellent work that they are doing to highlight the risks associated with Group B Strep and to promote better screening and care in the Health Service."
•To support the charity's campaign sign the petition at http://petitions.pm.gov.uk/groupbstrep.
For more information about GBS call www.gbss.org.uk or call 01444 416176.
---
Simple test that could save lives
BALLINDERRY woman Helen Savage whose son Samuel died from Group B Streptococcus (GBS) is also supporting the Awareness Week. Helen is visiting local clinics with Group B Strep Awareness Posters and using her website www.lifeafterloss.org.uk to promote a petition set up by the Group B Strep Society for the NHS to offer a routine test for GBS during pregnancy. Helen got involved with charity Group B Strep Support after her son Samuel was stillborn at 39 weeks in February 2005. Helen and her husband Sam, from Ballinderry, were told after tests that the most probable cause of their firstborn son's death was a Group B Strep infection. She said: "I think raising awareness of Group B Strep is incredibly important, because many pregnant women are completely ignorant of the infection which could take their child's life. In my case, as Samuel was infected in my womb, I believe nothing could have been done to save him. However in most cases the baby is infected during delivery, and if the woman is known to carry Group B Strep, it is very simple to take steps to ensure the baby is not affected." Group B Strep Support is campaigning for pregnant women to be offered a reliable test for GBS on the NHS. At the moment, the test is only available privately at a cost of around £32. Eighty per cent of GBS infections could be prevented if those women found to be most at risk were offered antibiotics from the onset of labour.
To support the charity's campaign, sign the petition at http://petitions.pm.gov.uk/groupbstrep.