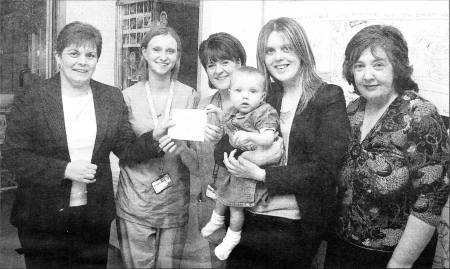 At the cheque presentation at the Royal Hospital for Sick Children Paediatric Intensive Care Unit were Hannah Lusty, mother Jenny, Annette Blakely, two of the nursing staff and Heather Lusty. The total raised was £1500.The Blakely and Lusty families would like to thank all who bought ballots or gave a donation.
A LISBURN woman has presented a cheque to staff at the Royal Hospital for Sick Children who helped care for her new-born grand-daughter after she was born with a serious bowel condition,
To celebrate Hannah Lusty's first birthday on May 16, grandmother Annette Blakely handed over a cheque for £1,500 to medical staff from the Paediatric Intensive Care Unit.
Annette, from Mooreland Drive, helped run a charity night at Derriaghy Cricket Club to raise the cash.
Hannah was born suffering from gastriothesis, a condition in which the bowel is formed outside the body, and she underwent three operations - the first when she was just four hours old.
The tot spent three gruelling months recovering in hospital with two-and-a-half weeks spent in the intensive care unit.
The condition was first detected when Hannah's mum Jenny was just 16 weeks pregnant. An abnormality was found and after a second indepth scan it was revealed the unborn child would have a severe but not life-threatening condition.
Ironically Annette had already read about the condition in a magazine so knew a little about it.
Monitored
Throughout the rest of her pregnancy Jenny was monitored and tested and medical staff explained that as soon as her baby was born she would have to undergo an operation to place the bowel back into her tiny body. Jenny was told exactly what would happen and was shown around the Infant Surgical Unit where her new-born would be recovering.
"The medical staff were great to Jenny. She was never kept in the dark and everything was explained to her about the procedure so nothing that happened would come as a shock," said Annette.
At 36 weeks - on May 16, 2006 - Hannah was born. It was feared her bowel would rupture if Jenny went full term and she was born by caesarean section
Hannah was taken away and at just four hours old went into surgery. After a week a further operation was carried out, and a third followed.
Little Hannah spent three and a half months in the hospital before she was finally allowed home.
A year on and Hannah's family still felt indebted to the staff who cared for her and wanted to do something to raise money for the hospital.
Her grandmother said: "We are really proud of Hannah and how she coped with everything. The experience showed us the amount of work that goes on at the hospital and we saw how attentive the staff are. I don't think that people realise, until something like this happens, what it is really like.
"Hannah is just a perfect wee girl. She is quite small for her age and gained weight slowly but is fine now. We have been told that she will not have any problems later in life.
"We wanted to give something back to the staff who cared for her. We are forever grateful"
Annette also thanked everyone for supporting the charity night including the representative of Virgin Vie.
Of the £1,500 raised £1,000 went to the paediatric unit and the rest towards the parents room at the neo natal unit.