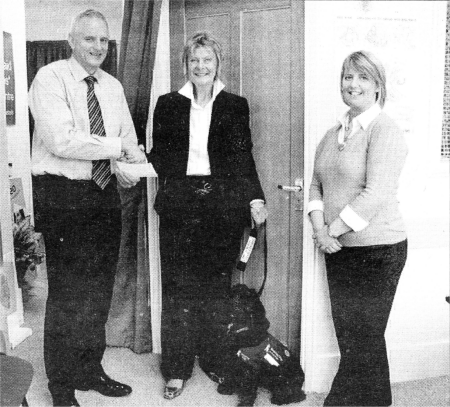 David Parkinson, Elizabeth Ward with 'Noah' and Elyse Mercer from Lagan Valley Rotary Club
LISBURN Hearing Centre has urged local people to donate used stamps towards its efforts to help a charity that trains rescue dogs to become potentially lifesaving 'four legged friends'.
'Hearing Dogs' act as assistants and companions to profoundly deaf people by becoming their 'ears'. They are highly trained to alert their owners to everyday sounds like the telephone, doorbell and cooker timer.
Importantly, these super intelligent canines also warn their human companions of any dangers such as smoke or fire alarms and other emergency sounds. A spokesperson for Lisburn Hearing Centre said the dogs became faithful friends and offered comfort and companionship to their owners The dogs also wear burgundy jackets when out to let other people know they are assisting animals.
"A profoundly deaf person may have lost confidence and feel they cannot face the world, but by having this friend and companion the person receives a boost in confidence," a spokesperson said.
"You can help by donating your used postage stamps which will be converted into money for the charity. "Christmas is the best time of year to collect stamps because of the extra mailing. You can leave your stamps at Lisburn Hearing Centre in Bachelors Walk, Longstone Post Office and Smile Dental Surgery in Sloan Street.
"The stamps will then be sent to collectors all over the world and all the monies for this will go to the Hearing Dogs."
The Centre hopes to raise around £5000 - the cost of training a hearing dog - and the spokesperson "said people taking advantage of its free hearing test were being asked to make a small donation.
"All the proceeds from this will go to the Hearing Dogs Charity. For every hearing aid we dispense we will make a donation to the charity on the person's behalf," he added.
A Hearing Dog recipient must be over 18 and needs to be a dog lover who is able to take on the expense of a four legged friend including maintenance, grooming and vet bills. Dogs are regularly inspected by representatives of the charity.
When Lisburn Hearing Centre obtains a dog it will run a competition in which people will be asked to guess its name.
The correct answer will win the entrant a small prize. Each name selected will cost £1 and every donation will go to the charity's funds.
Visit web sites www.hearingdogs.co.uk, www.lisburnhearingcentre.co.uk, or contact the Hearing Centre's office for further details, telephone 9264 0302.
' Hearing Dogs" Irish representative, Elizabeth Ward, is based in Londonderry where she works as a speech therapist.
She recently visited the Lisburn Centre with her hearing dog 'Noah' and her friend Linda. She said she really appreciated the 'benefits, companionship and friendship' that Noah gave her.
During her trip to Lisburn Elizabeth received cheques for her charity from David Parkinson of Lisburn Hearing Centre and Elyse Mercer from the Rotary Club of Lagan Valley.
She wished the Centre well for its collection and said help from the people of Lisburn would be really appreciated.