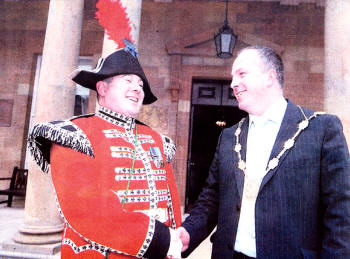 Andrew Carlisle of Hillsborough Castle welcomes Lisburn Deputy Mayor Jim Tinsley to Hillsborough Castle at the launch of the Garden Show on Tuesday. US1307-104A0
GREEN-fingered people will have the chance to enjoy the world of gardening in Hillsborough this summer.
Garden Show Ireland's Garden Festival will take place in royal surroundings at the Walled Garden at Hillsborough Castle - a truly impressive setting which provides the perfect partner for this feast of gardening delights.
International garden designers, top horticulturalists and an array of unusual plants and flowers will be just some of the major attractions at the show, which was officially launched on Tuesday.
Garden Show Ireland Festival Director Claire Faulkner said: "The walled garden is a treasure, a hidden haven.
"The whole concept for the garden festival has changed this year with the move to our new venue.
"Visitors will be able to take part in all the activities of the festival and then wander through Hillsborough Castle's enchanting
gardens and into the beautiful historic village of Hillsborough. "It becomes a complete day's entertainment for all members of the family or a fun weekend away."
Free advice will be on hand from designers and gardening experts in the design clinic.
A gardener's question time will provide answers to horticultural dilemmas.
The Garden Festival takes place form June 8 to 10.
Admission is £8. To buy tickets or for more information visit www.gardenshowireland.com or contact 9756 1993.