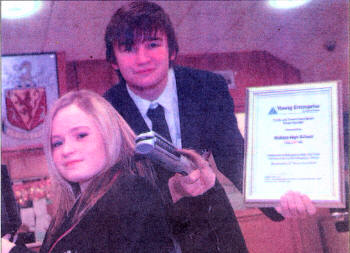 Chris Williams and Amy White from `HotStreak'. US5007-127A0
AN innovative way of storing one of today's most common personal grooming aids designed by Wallace High School's Young Enterprise Company scooped two awards at the Ballymena Trade Fair recently.
The 20 pupils involved in `Hot streak' wowed the judges with Straight Safe' - a stand for hair straighteners.
Sales Director Amy White explained: 'Our market research team explored various products and one of our members, Ruth Gamble, came up with the idea of a stand for straighteners.
"Nearly every pupil in school owns straighteners and all of those we interviewed reported issues with safety. "Our handy stand ensures that straighteners - which are very expensive and precious to most teenagers - can be stored safely.
"We are making our stands in the Technology Department at Wallace and we were delighted with the response to the product at last week's Trade Fair."
Managing Director Chris Williams was recognised on an individual level when judges selected him as 'best personality'. He said he was 'delighted' but added: "I'd like to pay tribute to the hard work and determination of all the company and the excellent advice offered by our teacher Ms Neill.
"We learnt a lot from attending the Ballymena Trade Fair and welcomed the positive feedback on our company."
Chris also announced the launch of Hot Streak's website: "I'd encourage anyone who is keen to learn more about our product to visit it at www.hot-streak.co.uk"