"Vague Memories… Ireland of Yesteryear"
Under the High Patronage of His Serene Highness Prince Albert II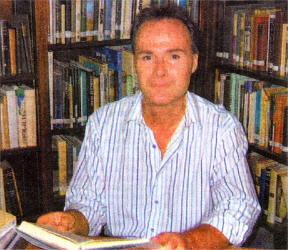 Jack Murray in the Princess Grace Irish Library.
The Princess Grace Irish Library (Monaco) is to host an exhibition of portraits, landscapes and interiors by Jack Murray Monday 19 March to Friday 13 April 2007
(Private View – Invitation Only – Saturday 17 March – Saint Patrick's Day)
Although born and educated in Lisburn, Jack Murray has spent almost half his life living and working abroad — in the USA, Australia, England and now the Principality of Monaco.
His interest in art began at an early age, encouraged by his parents who noticed their six-year-old son drawing an impressive likeness of his hero George Best. Although Jack had a spell as a portrait artist in an American fairground during a summer vacation from University where he was reading politics and economics, it was not until the late 1990's that he began to paint in oil. At this stage, painting was a hobby but access to some of the world's finest art museums gradually transformed this pastime into passion. Jack returned to Northern Ireland between 2000-2003 to run his own art gallery. The idea behind the gallery was to make art more accessible through the organising of unusual broad appeal exhibitions. The gallery garnered significant media attention and featured regularly in newspapers, radio and television because of the anti-elitist approach to art. 'Stripped' an exhibition of art without frames taped to the wall was a major hit for the gallery. 'Fake', an exhibition of, well, fakes also proved highly popular with the media and public alike. Java Gallery was not just about eccentric exhibitions... it also provided the first launch platform for many young artists in the province.
Jack is almost entirely self-taught, although through the gallery he got to know and learn from many established artists and emerging young talents. His painting style is both realistic and sympathetic. Unimpressed by modern art's emphasis on self-expression and abstraction, he turned down the opportunity to attend art college. As he says, "How do abstract painters know they are getting better? " Consequently, Jack has turned to the great masters for guidance, visiting art collections the world over and devouring voraciously books providing insight into classical techniques.
Jack Murray's work has been exhibited in Ireland and the United Kingdom.
During the private view at the Princess Grace Irish Library, harpist Cécile Bonhomme and flautist Stéphan-Gabriel Formhals will perform Irish music. These musicians are part of Harpissimo — the only professional harp orchestra in the world — created in 2000 by Stéphan-Gabriel. www.harpissimo.com
Interview/photo opportunity with Jack Murray (for press only): Saturday 17 March, 10:00-13:00 Private view (invitation only): Saturday 17 March - Saint Patrick's Day, 19:00-21:00 Public exhibition: Monday 19 March to Friday 13 April, Monday-Friday (closed weekends), 11:00-17:00 non-stop
Press enquiries and photos : Judith Anne Gantley – Administrateur
Princess Grace Irish Library
9 rue Princesse Marie-de-Lorraine,
MC 98000 Monaco
Tel 00 377 93 50 12 25 / Fax 00 377 93 50 66 65 / pgbooks@monaco.mc
Brief biography.
I was born in Lisburn in 1965 at the Lagan Valley hospital. My parents are Doctor Denis Murray, a retired GP, who worked in Lisburn for over 30 years.
His former GP partners included Doctor Paddy MacHugh, who passed away many years ago, and Doctor Docherty, who still practices at the health centre. My mother is Anne Murray who owned a hairdressing salon in Bangor. Both are retired, still live in Lisburn and members of the golf club!!
I have a twin brother Edward who has zero artistic ability, I think I got that and he got the business brain. I went to school at St Aloysius in Lisburn, then Rathmore Grammar in Finaghy, college at Queens before leaving N Ireland, initially in 1987, to travel in Australia and the Far East.
After returning in 1989 I moved to London where I lived until 2000 when I returned home to open an art Gallery (Java Gallery) in Belfast. The gallery was great fun to do but I could earn more doing what I had been doing i.e. marketing and so I returned to UK after three years. Whilst working at Del Monte in Staines (Ali G territory) I was invited to take on a role that encompassed Europe, Africa and the Middle East, based in Monaco. During all this period I continued to paint but did not seek gallery representation.
I have now left Del Monte to concentrate on painting full time. This was driven by the opportunity that was presented to me by the Princess Grace Irish Library who saw some examples of my work and asked to put on the exhibition which brings us to where we are now.