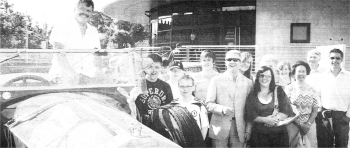 Family and friends greet Jim Black as he returns to Lisburn

Jim Black reaches Greece
in his 1924 Silverghost Rolls Royce
Police at one of the roadblocks
stand to admire Jim's Rolls Royce.
A BALLINDERRY man was not put off when he failed in his road trip bid to get to Jerusalem. Despite failing to reach his destination using his 1924 Rolls Royce Silver Ghost, Jim Black still managed to get there by aeroplane.
Jim, a Rolls Royce enthusiast, drove thousands of miles through Europe but met a stumbling block at Greece. He managed to drive through the country despite the forest fires, but once at Athens, he was forced to return home. Because of insurance problems his beloved car was not allowed onto the freight ship to Cyprus.
But all was not lost for Jim. He drove back using the rest of the trip as a holiday. He visited Rome, Brussels, the Normandy beaches and went to the Somme where he presented a plaque on behalf of the Lisburn City Council at Thiepval.
| | |
| --- | --- |
| | |
| Lisburn Mayor James Tinsley welcomes Jim Black back to Lisburn after his epic journey. | Jim Black with his Rolls Royce |
HOME
When he arrived home his wife was in Jerusalem as she had flown out to meet Jim. So he paid for another flight and joined his wife for a weekend in Jerusalem.
During his two month trip he travelled through countries like France, Italy, Macedonia, Brovenik, Croatia, Montenegro and Kosovo. It was while in the Balkans that he had money stolen at a road block, was faced with armed militia in Serbia but was also befriended by an exiled family in Montenegro.
BELOVED
Throughout his travels his beloved car never let him down.
"Some days I would have travelled 500 miles a day and do 60mph," he said. "In all we travelled 8,860 miles and if I'm honest I would do it again.
"The Rolls Royce is a very hard wearing car and were used as armour cars in their time." Jim now plans to host a series of fundraising lectures with local car clubs for the Rolls Royce Enthusiasts Club of Ireland, the St Joseph's Pre School for the Blind and Deaf Children and the Jordanstown School for Blind and Deaf Children.