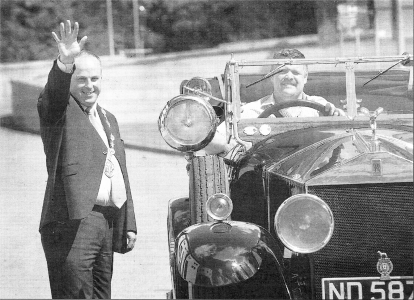 Jim Black of Lisburn sets off on a road trip to the Middle East in his 1924 Silver Ghost Rolls-Royce, waved off by Mayor of Lisburn, Councillor James Tinsley.
A VINTAGE Rolls Royce is taking a Ballinderry man half way across the world to raise money for charity. Jim Black's Silver Ghost 1924 car will take him on a three month journey across Europe and the Middle East. He started on July 20 and will travel through France, Italy, Macedonia, Turkey, Syria, Lebanon, Israel, Jordan and Egypt and returning through Austria and Belgium. On his return Mr Black will be hosting a series of fundraising lectures with local car clubs for the Rolls-Royce Enthusiasts' Club of Ireland, the St. Joseph's Pre-School for Blind and Deaf Children and the Jordanstown School for Blind and Deaf Children.
Mr Black will attend a number of civic receptions on his journey and present ambassadors with the City of Lisburn plaque.
Jim, who took a similar trip to Jerusalem in his Rolls Royce in 1997, said before left: "I have always had a passion for vintage cars and for travel and I can't think of a better way to combine the two.
"I must pay tribute to Lisburn man Leslie Gamble for the immaculate bodywork; identical vehicles were rebodied in the Middle East for desert warfare so I am in no doubt that this one is up to the challenge.
"Raising money for charities through my fundraising lectures when I return is an added bonus and I hope I can count on fellow car enthusiasts to support these worthwhile causes."
Mayor of Lisburn, Councillor James Tinsley, said: " It is encouraging to see members of the local community widening their horizons and representing the City of Lisburn further afield, as well as raising the profile of a number of worthwhile charities.
"Jim has also agreed to let us use his vintage cars to raise money for my own nominated charity, the Make a Wish Foundation."