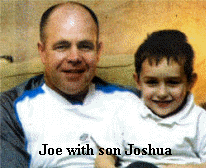 THE GRUELLING heat at the London Marathon may have taken its toll on Joe Fletcher's bid to complete the race in under four hours, but it couldn't stop the Moira man who ran the 26 miles on behalf of the charity Diamond Blackfan Anaemia UK in four hours 42 minutes.
Joe, who was on the course during the most difficult conditions with temperatures soaring to 23 degree centigrade, had been training since October but nothing had prepared him for the sweltering heat. "The last three miles were very difficult as my energy levels were low. It was very warm but I was determined I was not going to give in," he said. "The crowds were very supportive and encouraging. The atmosphere was very good and there is a terrific sensation when you complete it but it is hard.'
Joe has previously taken part in the Great North Run and the Lisburn Half Marathon and was only asked in October to run for the DBA UK after their nominated runner was injured in a car accident.
He and his wife Julie joined the charity after their son Joshua was diagnosed with the incurable blood disorder. His sister Jodie became the first 'saviour sibling' conceived in the UK after the Human Fertilisation and Embryology Authority granted the Fletchers permission to have a tissue-matched baby.
Joe hopes to have raised £2,000 and said he has been overwhelmed with the support from his children's school. The P4s at Meadowbridge Primary held a bun sale and raised £100 while members of the PTA sponsored him. Joe's wife Julie and their son Adam now plan to do the 10k run in the Lisburn Half Marathon.