A RARE road bike owned by motorcycle legend Joey Dunlop will make a special appearance at the North West meeting this weekend thanks to local man Brian Mulholland.
Brian, who lives in Culcavey, owns the prized machine on which Joey won his one and only Production 750 race at the North West back in 1987. A collector of old bikes,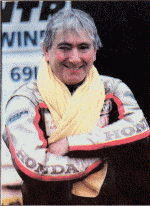 Brian jumped at the chance all those years ago when he saw the bike was up for sale from one of Joey's mechanics.
"The bike was only raced twice," explained Brian. "After winning the 750 race at the North West Joey took it to the Isle of Man for the TT, but it didn't do too well and then along came the works machines so Joey decided he did not need the road bike again and sold it to one of his mechanics.
"I noticed it advertised in the paper and paid £3,000 for it which was a lot of money then for a road bike, but the fact it belonged to Joey made it very special. I have a signed document by his late manager Davy Woods stating
it is the one and only bike 3 Joey won a 750 race on. "It has been in my garage for too many years, only family and friends really knew about it. I never had it out on the road, but just kept her turning over," added Brian. "This year I decided to put it on show at the North West in I the Classic Display which includes two laps. I expect it might create a bit of interest."
Later this year Brian is putting the bike up for sale.
"It will be going to Bonhams in England in October for auction. I don't really know what to expect. We'll have to wait and see."