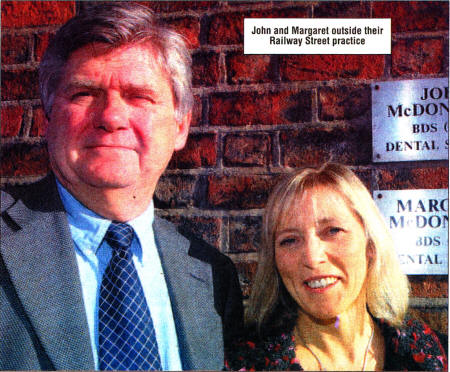 John and Margaret outside their Railway Street practice
TWO of Lisburn's best known dentists have decided to hang up their drills after nearly thirty years in Lisburn.
Last week, husband and wife team John and Margaret McDonough bade farewell to patients and staff at their practice in Railway Street.
The couple didn't expect their business to sell so quickly after it recently went on the market but are looking forward to travelling and spending more time with their family
The McDonoughs first came to work in Lisburn in 1979 and moved to Railway Street in 1992. John, 59, qualified from Queens' University in 1972 and has spent 35 years in the profession. Whenever Margaret qualified in 1974 they decided to go to Capetown, where they spent four years working separately in private practices.
"It was the start of all the troubles in Belfast and we decided to go to South Africa to get away from the awful things happening at home," John explained.
The couple returned to Northern Ireland and started a family. Their son Ian, 28, is a software developer in London and their daughter Jenny, 26, is an Irish International Hockey player.
Margaret commented: "We will be travelling to Vancouver to support our daughter as the Ireland team hopes to qualify for the Olympics and we will be going back to South Africa to visit friends."
The McDonough Dental Practice will stay as a family concern as it has been taken over by a new husband and wife team from Manchester and the current staff, including Associate Dentist Alannah Field, will remain.
John added: "We would like to take this opportunity to thank everyone who has sent us cards and presents and wished us luck for the future. We have been amazed by all the kind gestures.
"We will miss the staff, especially Pauline McMichael, chief receptionist, who started with as way back in 1980, and we wish the new team all the best." On behalf of the staff Practice Manager Lynda Bailey wished John and Margaret a long and happy retirement.