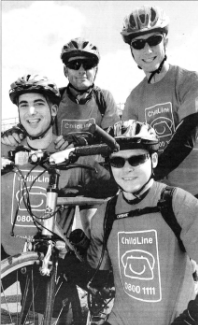 LISBURN man Johnny Glover, well known to listeners of Lisburn's BFBS radio breakfast show, is getting on his bike to raise much-needed funds for Childline.
Johnny is joining three soldiers - Sgt James Chadwick, Cpl Andre Hill and LCPI Andrew Mummery - based at Thiepval Barracks in the city, to cycle from Lisburn army headquarters to the army headquarters in Rheindahlen, Germany, all in the name of charity.
The four will set off from Lisburn on Friday May 11 and are hoping to cover the 450 mile trek in five days, arriving in Germany on Thursday May 17.
The fundraising effort was the brainchild of Regimental Policeman Andrew Mummery, who explained: "We are encouraged to organise events so I got permission from my commanding officers and my wife came up with the idea of raising money for Childline, as we have three young children ourselves." The team are hoping to raise a minimum of £2000 for the charity and are urging local people and businesses to help them with sponsorship.
"We would be really keen to hear from any local businesses who could provide sponsorship," said Johnny. "We will, of course, give them a mention on the radio, so its good publicity as well."
Thanking the team for their support, ChildLine's Community Fundraising Manager, Marion McCann, said: "We are extremely grateful to the team from Thiepval Barracks for taking on this marathon cycle challenge to raise money for ChildLine Northern Ireland.
Every penny raised through the team's pedal power will help ChildLine answer more calls from local children who need the comfort, advice and protection our counsellors provide."
If you would like to sponsor the cyclists or offer any support, log onto the BFBS website, www.bfbs.com/lisburn and follow the link.