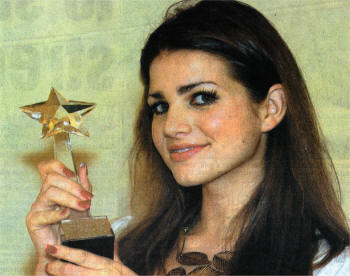 THE fashion world fell for local girl Jordan Humphries recently when she won the prestigious Northern Ireland Fall for Fashion Model Search competition.
The 16-year-old Wallace pupil has won a host of top prizes, including a modelling contract with The Style Academy, after being chosen as the winner at the event in Castle Court Shopping Centre, Belfast on Saturday October 20.
Jordan, who is in Year 13 at Wallace, got the surprise of her life after her mum entered her into the competition.
"I'm so excited with everything that's happened," she said. "My parents are absolutely over the moon. My mum sent in the photos as a surprise so she's really pleased that something has come of it. I only found out on the Tuesday and the competition was on Saturday so I was hitting the gym like crazy for four days."
Jordan continued: "I didn't know what the prize was so when I found out I was doubly nervous, I couldn't believe it when I won; I'm absolutely chuffed."
As well as the coveted modelling contract, Jordan received a £500 shopping voucher for Castlecourt as well as a make-over by Irish Make-up Artist of the Year, Rosemary Wright and having her portfolio taken by UK Photographer of the Year Ciaran O'Neill.
Jordan made her modelling debut at the Marx Red Vodka Fall for Fashion event at St. George's Market last month, where she modelled Irish artist Terry Bradley's new T-shirt range.
Right now, however, Jordan is busy planning how to spend her shopping vouchers. "I haven't got my vouchers yet but hopefully I can get them to use over half-term; I've picked out what I want to spend them on."