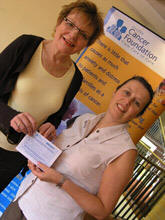 Arlene Spiers Chief Executive, Ulste cancer Foundation accepts a cheque from Karen Blythe for £500 during UCF's annual Challenge of Cancer conference held at the Wellington Park Hotel.
THE shocking news that her sister had cancer probably saved a Lisburn woman's life.
Karen Blythe's younger sister Sandra Mcllroy, from Bessbrook, was diagnosed with cancer in May last year after she found a lump in her breast.
Although she had no symptoms, following the diagnosis Karen, from Haddington Hill, decided to get checked out with a little persuasion from her father.
So it was even more shocking that Karen too was found to have identical grade three cancer in July last year.
Both women underwent six months of gruelling surgery and courses of radiotherapy and chemotherapy, but happily this year they each got their first year assessment and were given the all clear
Karen, who is now 42, is in no doubt Sandra's devastating news saved her.
"My cancer was so deep routed and I had no lump so mine would never have been noticed," said Karen. "If it had not been for Sandra I would never have known. By the time I would have found out it would have spread throughout my body."
Karen held a number of fundraising events and collected £2,000 which will go to local cancer charities. A pampering party and a 20 year reunion dinner with her university friends raised £1,000 for the Ulster Cancer Foundation, and Action Cancer while a further £1,000 was raised from a Venture photography event and the money will go towards Macmillan.
As a thank you for all the help and support the sisters received during the past year, Karen collected £1,000 for local cancer charities during two recent fundraising events at her home.
She said: "After six months of treatment consisting of surgery, chemotherapy and radiotherapy we wanted to give something back for all the support we received from friends and family and particularly charities such as the Ulster Cancer Foundation, Action Cancer and Macmillian cancer support.
"These charities offered support through group meetings, counselling, therapy courses, Look Good Feel Good sessions, yoga and meditation to name but a few. In fact it was through Action Cancer's free mammogram service that Karen was first made aware that she had a problem.
"We hope to hold further charity events and we would like to thank our family, neighbours, friends and work colleagues for all their help and support through the past year."