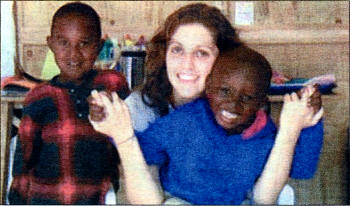 Kelly with some of the children from the Rock of Joy Children's Centre
KELLY Yates will be sharing a story of hope when she gives a talk at Kilmakee Presbyterian Church at 11am on Saturday morning (October 13).
Kelly will be sharing stories about the Rock of Joy Children's Centre in Uganda, where she worked for six months with The Oasis Trust, at the coffee morning at the Dunmurry Church.
"During my time in Uganda I discovered the beauty of its landscape I have stumbled upon something even more beautiful, a different type of beauty. The beauty of seeing a community transformed. It is astounding how a person's face can literally become brighter as they are liberated from hardship."
During her talk on Saturday morning Kelly will share the story of Pastor Steven Kimbowa, the founder of the Rock of Joy
Children's Centre in Lungujja, just outside the capital Kampala. "When I first visited the school in 2005 I found a distressing scene," continued Kelly. 'A lack of funds was having a huge impact – space was limited, as were educational resources, the children knelt on the ground whilst working, they often became sick without access to necessary healthcare, the school was struggling to feed the children a mere cup of porridge each day which, for many children was the only nourishment they would receive. With the added reality of HIV/AIDS and malaria I could quickly have become disheartened, but this was impossible when my heart had been captured by the joy for life that I found in the people here."
Since returning from Uganda, Kelly has been working with the Kabanda Trust to raise money for the centre, which, according to Kelly is "filled with more hope than ever before."