Kerry's marathon plan in memory of racing legend husband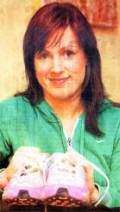 THE widow of a local motorcycling hero who was tragically killed last year is planning to run a marathon in an attempt to raise funds in memory of her late husband.
Kerry Lindsay, whose talented husband Darran died last September during practice for the Killalane Road race in Dublin, is urging local people to join her in the Belfast Marathon.
Kerry, 30, will run the race on May Day, Monday May 7. She had applied to run the London marathon but was unsuccessful in the ballot. She says, however, that it has worked out for the best as running in Belfast means she will have more support from local people
The young mother of three explained: "Darran was so proud of me last year when 1 ran the Belfast Marathon and Lisburn half marathon. I just feel the time is right for me to start to get my life back on track and the marathon will give me something to focus on.
Rough
"It has been a rough time and running the marathon and trying to raise money is my way of giving something back to the sport that Darran loved so much. He was injured so many times so I have decided that any monies raised will be divided between the Injured Riders Fund and the MCUI Medical Team."
Kerry said that when she completed the marathon last year Darran was away racing in Scarborough but she knew how proud he was.
"He said to me: 'Even though I am not going to be with you I have something planned,' and so he did. In fact he arranged a sign to be attached to a lorry in Belfast which said 'Go Mummy go, hurry home and make tea, love from Ben, Zac and Poppy.'
Completed
"Just after I completed the run I rang him and he was so proud of me finishing it. I could hear him telling the people around him. I told him it was hard on my kness and later on he sent me a text message saying 'Kerry if we keep doing this, (marathons and racing) we'll be racing zimmer frames when we are 50.
"He would have loved to have been able to do the run with me but he just had too many injuries and his legs weren't up to it."
The Dundrod woman has begun training and is glad to have something to focus on.
She said: " I am really looking forward to it and I'd like to thank everyone who is supporting me. My friends and family have been brilliant and help me with the children when I need to train.
"If anybody wants to take part in the marathon alongside myself to raise money, they can get in touch with me and I will sort out all the appropriate details. Please don't hesitate to contact me," she said.
If you are interested in joining Kerry or would like to make a donation, please contact her on 07928484457