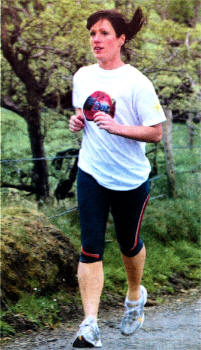 NOT even a knee injury could deter the widow of motorcycling champion Darran Lindsay from completing the London Marathon on Sunday.
The injury meant Kerry Lindsay, 30, from Dundrod was forced to part run and part walk the 26.2 miles, in memory of Darran who was killed last year while practicing for the Killalane road races near Dublin.
Even then the mother-of-three impressively completed the course in five hours and 13 minutes.
Kerry said she enjoyed the experience but admitted being upset that Darran wasn't there to meet her at the finishing line.
'I felt emotional before I started when I left my friends. Then towards the end of the race I felt sad because I knew Darran wasn't going to be there at the end to meet me.
'I only wish I had been running the race for a different reason."
Kerry is also set to take part in the Belfast City Marathon on May 7 - her second in the space of two weeks.
The sponsorship money she raises from each race will be put towards the Injured Riders' Welfare Fund and the Motorcycle Union of Ireland.
In total 97 friends and supporters of Kerry's will be running the Belfast City Marathon to help raise money for the charities as well. She hopes at least £10,000 will be raised.
"I'm not feeling too bad after Sunday's race. The cortisone injection I had in my knee definitely helped and lasts for three weeks. I'm feeling fit and positive for Belfast," she said.
"You get a real buzz from running a marathon. I'm now even considering doing the Amsterdam marathon in October as my sister is living there.
I'm keen to do it as I want to keep my mind focused," she added.
If you would like to sponsor Kerry you can send a donation to Kerry Lindsay, Hannahstown Road, Lisburn or phone 07928484457.