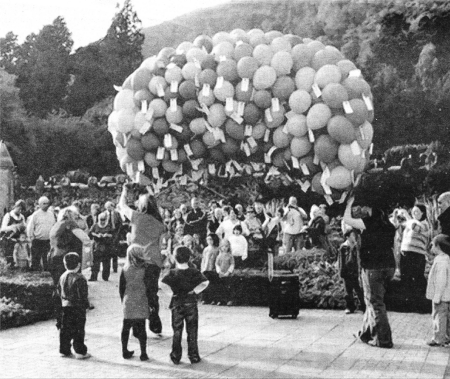 Some people who were at the balloon release at Belfast Castle to highlight the Life After Loss charity.
A BALLOON that was released as part of a charity drive organised by Ballinderry mother Helen Savage has turned up thousands of miles away in Norway.
Helen, a founder member of Life After Loss, organised the balloon release at Belfast Castle with help from members of two other baby charities Babyloss Awareness and Sands, organisations which support those who have lost babies.
A tag from one of the 500 balloons released was found by Kristen Troseng in Sigdal, Norway exactly a week later. She will receive vouchers for locating it. Two other tags were found in Scotland and in county Antrim.
Over 500 balloons were released at Belfast Castle on the day helping to raise over £1,200.
Helen, who was helped by Davina Greer from Moira who lost one of her triplets, in organising the event said she was thrilled the balloons were located.
"We were all over the moon that a balloon travelled so far," she said. "This is an opportunity to get a bit of publicity for the group and what we are trying to achieve. We are trying to reach out to as many people as possible."
Helen, who is mother to 18 months old Aimee and Nathan, who is five months, lost her first child Samuel in February 2005 just days before she was due to give birth. He suffered from a group b infection.
Life After Loss was set up in November 2006 by bereaved mothers who found support and friendship through sharing their grief over the loss of a baby. It helps anyone who is affected by the loss of a baby, at any stage of pregnancy or after birth. To find out more log onto www.lifeafterloss.org.uk