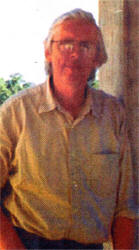 ARTIST John McSorley, who is originally from Lisburn, recently opened his new one-man show, 'Balancing the Light', at the Artz Yard Gallery in Portaferry. John was born in Lisburn in 1948 and has lived on the shores of Strangford Lough for almost twenty years.
He has been painting since childhood and has his first one-man show in Belfast in 1971: he has been exhibiting in galleries all over Ireland ever since.
Often depicting the strange and magical light effects of dawn, dusk, moonlight and starlight, each canvas is a one-off, capturing a unique moment in time and place. 'Balancing the Light' will be on display at Artz Yard Gallery, Church Street, Portaferry, until June 30.