by JENNY MONROE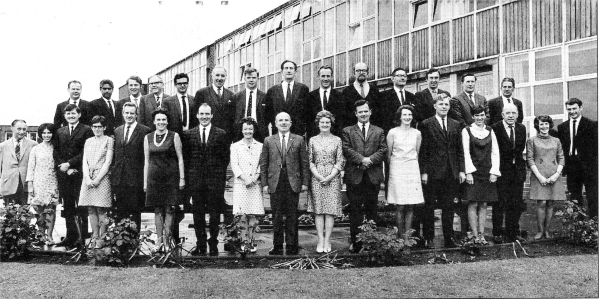 Back Row Mr N McClelland, Mr R Yamin-Ali, Mr F Hastings, Mr McCarrison, Mr J Mulholland, Mr D Osbourne, Mr D Stein, Mr R Robinson, Mr R Sloan, Mr C George, Mr R Bingham, Mr E Adams, Mr J Falloon. Front Row Mr A McCartney, Miss EM Kerr, Mr D Malcolmson, Miss H McComb, Mr R Willis, Miss D McCallister, Mr J Graham, Mrs P Leckey, Alderman S Semple, Mrs JM Barrell, Mr C West, Mrs J Mairs, Mr W Lilburn, Miss J Beattie, Mr G Black, Miss A Little, Mr W Bigley.
LISNAGARVEY High School celebrates its 50th anniversary this year and a year long programme has been devised to mark the special milestone.
From a school fete to a gala dinner, recently appointed School Principal Jim Sheerin said he was anticipating a great year of celebration in the life of the school.
Lisnagarvey County Secondary Intermediate School was officially opened by Mr Albert Stevenson, Chairman of Lisburn Rural Council, on September 11 1957. It was built at a cost of £190,000, which in those days was considered an extraordinary amount of money to spend on a school.
In its 50 year history it has been served by only four school principals; Mr W. J. Morrison 1957-67, Dr Samuel Semple 1967-82, Mr Norman McClelland 1982-2006 and Mr Sheerin from 2006 to the present.
Lisnagarvey football team 1959-60.
Standing (left to right): Mr. W. J. Morrison (Headmaster), K. McCabe, J. Smith, H. Birney, B. Hull, C. Campbell. Sitting: N. McConnell, K. Farr, R. Smyth, V. Grattan, G. Ward, R. Neill.
Vice Principal John Ferguson, Ken Farr one of the original class 01 1957, Year 8 pupil Christopher Davis formerly of Moira Primary School (one of three generations of his family to attend Lisnagarvey) and Headmaster Mr Jim Sheerin.
Thousands of pupils have passed through the school gates and have gone on to play an extremely valuable role in the life of the local community.
A major change occurred in 1997 when, for the first time, girls were admitted to the school and now form approximately 50% of the current enrolment.
Although essentially the school building remains as it was originally in 1957, there have been constant additions and modernisations. This year alone some £6,000 has been spent in facilitating a state of the art 6th form learning centre, while a further £20,000 was spent in the purchase of individual laptops for all 6th Form students. £18,000 has also been spent this year on a new purpose built fitness suite.
Looking to the future Mr Sheerin feels the school is in excellent shape to meet the needs of pupils in the 21st century.
"We have first rate facilities and an excellent staff who work hard to ensure that pupils both enjoy school and have the opportunity to achieve their maximum potential," Mr Sheerin explained.
He added that he is confident that in the life of the school, "The best is yet to be".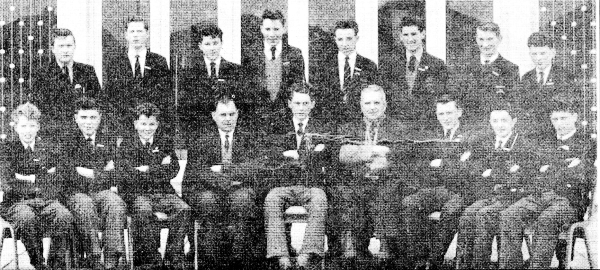 Lisnagarvey Prefects 1959-60. Standing (left to right): E. Allen, S. McLorn, B. Gibson, S. Taylor, A. McGaughey, W. Stewart, C. McElroy, M. Kirkpatrick. Sitting: R. Graham, K. McNeice, R. Irvine, Mr. W. J. Morrison (Headmaster), J. Allen (Head Prefect), Mr. Wm. Thompson (Vice-Principal), V. Grattan (Deputy Head Prefect), K. Brown, J. Finn.