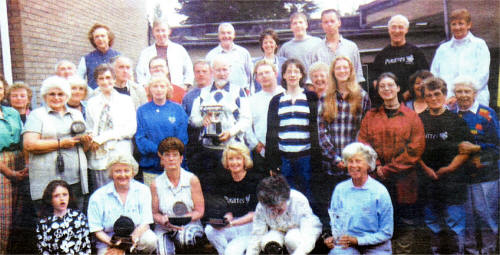 The award-winning cast of Lisnagarvey Operatic Society's1995 production of Pirates of Penzance, which won the AIMS awards for Best Chorus , Best Female Voice and Best Supporting Actress.
THE award winning Lisnagarvey Operatic Society will mark its Golden Jubilee with a production of Cole Porter's shipboard musical Anything Goes' in the Island Arts Centre next week.
Apart from the title track this classic show written in the 1930's features a number of songs which are instantly recognisable including 'It's de lovely' and 'You're the Top'.
It tells the story of Billy Crocker, a young Wall Street broker who stows away on a liner in a bid to win the heart of his beloved Hope Harcourt.
The musical will run from Tuesday (April 24) to Saturday (April 28) and is just the latest in a long line of challenging productions staged since the foundation of the current society from the nucleus of the then Lisnagarvey Male Voice Choir in 1957.
These include shows such as 'The Merry Widow', 'Calamity Jane', 'Pirates of Penzance', 'Brigadoon' and 'Hello Dolly'.
Cole Porters classic musical comedy "Anything Goes" being performed by Lisnagarvey Operatic Society including Claire Campbell (Angel), Gillian Algie as Bonnie, Louise Lemon (Angel), Dawn Patton as Reno, and Katie Pielou (Angel)
US1407-406PM Pic by Paul Murphy
Some of the cast from Lisnagarvey Operatic Society's 2004 production of Me and My Girl.
However, Lisnagarvey's roots stretch back much further than 1957.
A local society was founded in 1928 - even before Cole Porter first wrote of that by now famous 'glimpse of stocking looked on as something shocking'.
This group put on mainly Gilbert & Sullivan productions until its activities were suspended due to the Second World War.
| | |
| --- | --- |
| | |
| In 1984 Lisnagarvey's panto was Cinderella, which delighted the audiences in Lisburn Technical College. | Lisnagarvey Operatic Society staged a production of the panto Aladdin in Lisburn technical College in 1988 |
| | |
| --- | --- |
| | |
| Lisnagarvey's 1987 production of My fair Lady won the Northern Ireland Festival of Light Opera | A line-up of the `Grizettes' from the Merry Widow, Lisnagarvey's 1980 production. |
Established
For more than 20 years after 1957 rehearsal locations included Wallace High School, The Lombard Café and the Assembly Rooms before a rehearsal base was established at Dalboyne Court on Belsize Road in the early 1980's, in premises kindly provided by the late Mr. Leslie Boyle and his wife Mrs. Norah Boyle both long time members, patrons and vice-presidents of the Society.
In 2004 the Society purchased the property from Mrs. Boyle and carried out an extensive refurbishment which, when completed was officially opened by Mrs. Boyle on September 30, 2005.
Main productions were per formed in the Orange Hall until the early 1970s when they transferred to Lisburn Technical College.
In 1991 the company moved to the Arts Theatre where it remained until the venue closed in 1998.
The next few shows were staged in Laurelhill Community College and it is now hoped the Civic Centre, which opened in 2001, will provide a permanent theatre facility.
The Society has frequently participated in the Northern Ireland and Waterford Festivals of Light Opera and the Association of Irish Musical Societies (AIMS) award scheme taking prizes for individual and group performances.
In addition to its main productions the Society and the Youth Society, formed in the early 1980s, have engaged in a busy programme of concerts to raise many thousands of pounds for a variety of charitable organisations.
"The Society is in great heart and is vibrant, healthy and successful. This show is a fine tribute to all those who over the years have assisted the Society in so many different ways," said a spokesperson.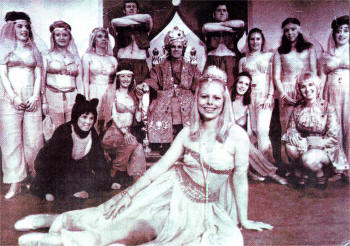 The first Lisnagarvey Operatic pantomime was Dick Whittington,
staged in Lisburn Orange Hall in 1972.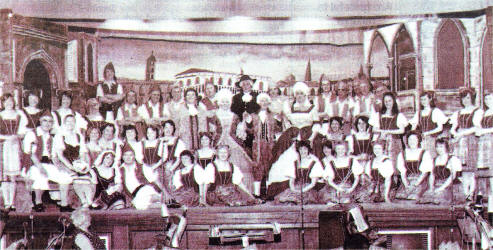 Lisnagarvey Operatic Society won Best Show in the Northern Ireland Festival of Light Opera in 1979 with their production of The Gondoliers.