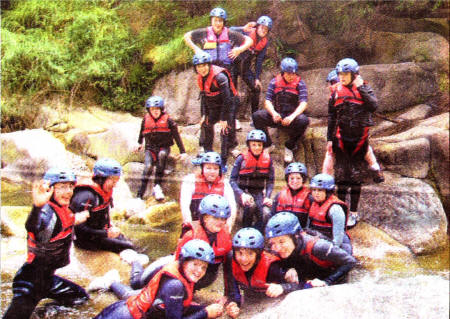 Some of the young people who enjoyed an outdoor activity organised recently by the Logic Café.
A SPECIAL half term event for young people is being organised in Moira next week.
Those aged between 12-18 are being invited to join the fun on the evenings of Monday October 29 - Friday November 2 from 8pm -10pm in the Old School House where there will be live music, interactive chat, interviews with staff, free food and more as part of the 'LOGIC Live Project', which is being organised by The LOGIC Café in Moira.
Running alongside the evening events will be a day time programme when 50 young people will get a chance to participate in activities including Dundonald bowling and lazer games, Ardnabannon outdoor activities, caving, high ropes and abseiling.
This programme is open to any young person between 12 - 18 years old in the Moira area.
The LOGIC Café is an initiative of St Johns Parish Church and has been developed to provide a safe and friendly environment where young people from a wide rage of backgrounds can meet together.
It offers an exciting programme of events and activities aimed at encouraging young people off the streets and directing their energy and enthusiasm towards something worthwhile and of meaning.
The LOGIC Cafe is run by committed Christian staff who have a heart for the young people of Moira - and is open to all young people between the age of 12 - 18.
The centre has a full size pool table, Playstations, TV, Music, air hockey table, a chill out area, games and a tuck shop and there are also trips organized for those who attend.
For further details contact: Matt Peach, 51 Main Street, Moira. Tel: 078 7264 5355 or 9261 7136. Or you can email: matt@moiraparish.org.uk