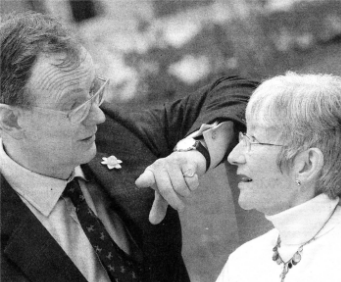 Tom Hughes-Hallett, Chief Executive for Marie Curie Cancer Care UK welcomes patient Ann McKee from Carryduff to the new Day Therapy facilities at the charity's Hospice in East Belfast. The opening marks a major milestone in the £3.2 million 'Living Rooms Appeal' project that has included the rejuvenation and rebuild of the 40 year old building. However the charity continues the drive to raise the remaining £750,000 for the appeal.
MARIE Curie Cancer Care last week marked a major milestone in the £3.2million redevelopment of its Belfast Hospice.
The charity opened a new Day Therapy unit, completing phase two of the major project - 'Living Rooms Appeal' - that has included the rejuvenation and rebuild of the 40 year old building.
Returning from the satellite day therapy facility at Ards Community Hospital, the specialist palliative care services at the Marie Curie Hospice will provide invaluable physical, emotional and spiritual therapies for patients and families living with terminal illness.
The Hospice already runs similar satellite day therapy services in Lisburn and. Downpatrick and will continue its service in Ards. The new unit in East Belfast will give local people better access to the charity's services.
Although the opening signifies the closing stages of the building work, the charity must raise a further £750,000 before it realises its vision for April 2007, of becoming one of the very best palliative care hospices in the UK.
Patients were welcomed into the new facility that is part of the redeveloped Outpatient area at the Hospice by Marie Curie Cancer Care Chief Executive, Tom Hughes-Hallett. He said: "I am delighted to be in Belfast today to greet patients and see first-hand the difference the new Day Therapy area will make to their lives."
To find out more about the 'Living Rooms Appeal' or to make a donation please go to www.mariecurie.org.uk/livingrooms, ring 9088 2044 to contact Julie Thomas, Living Rooms Appeal Fundraising Manager, or at Marie Curie Cancer Care, 60 Knock Rd, Belfast BT5 6LQ.