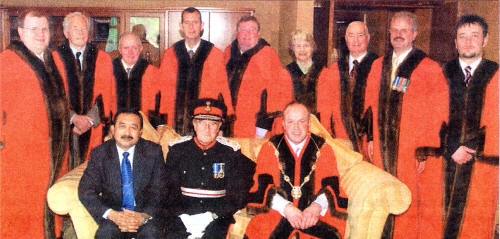 Lisburn City Council's elected members welcome Colonel Tajri from the High Commission of Malaysia and Lord Lieutenant of County Antrim. Lord O'Neill to Lagan Valley Island for the presentation of the Pingat Jasa Malaysia Medals.
THE First ever all-Ireland presentation of medals to war veterans who served in Malaysia was held in Lisburn on Saturday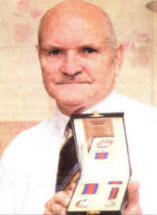 More than 130 members of the National Malaya and Borneo Veterans Association (NMBVA) and the Royal Ulster Rifles Association received the prestigious Pingat Jasa Malaysia Medal for distinguished chivalry, gallantry, sacrifice or loyalty while serving in Malaysia from 1957 and 1966.
A cadet guard of honour and bugler greeted the Malaysian guests, service veterans, and their families at Lagan Valley Island.

The ceremony was for war veterans from both north and south of the border who have been recognised by the Malaysian Government for their services in south-east Asia

Ex-serviceman William Doak, 62. from Lisburn, who received a medal said: "It really means a lot to get this recognition so long after the forgotten conflict.

"Lisburn City Council should be praised for hosting the event"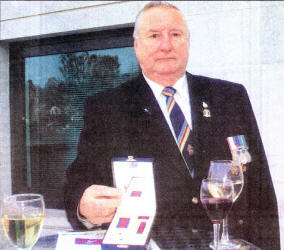 Another Lisburn Veteran Phil Price, 65, who served in the Royal Navy added: "It was a fabulous day - very emotional. The Council deserves praise for hosting it so well."

Major Bob Hayden, NMBA Ireland Branch chairman. who moved to Lisburn in 1970 said it was an honour for his members.

"We are very pleased that after all these years there is recognition for us," said Major Hayden.

A number of representatives from the Malaysian High Commission attended the ceremony, which was officiated by Deputy Mayor, Councillor James Tinsley Lord Lieutenant O'Neill and the Chairman of the Corporate Services Committee, Councillor Jonathan Craig.

Mr Tinsley said: "The people at Saturday's events served the Commonwealth many years ago in what must have been a hard and enduring wartime for them. and for their families waiting for them at home.'

"Many hundreds of service members lost their lives, and it is fitting for the veterans who came back home from Malaysia to receive the recognition they so richly deserve."