by JENNY MONROE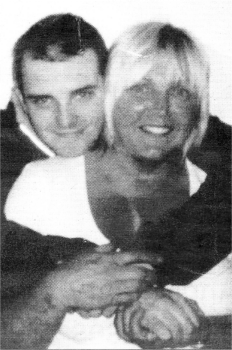 Marc Halpin and his mum Collette
THE mother of a Lisburn man who died after taking four ecstasy tablets has appealed to drug users to think very carefully about the consequences of their actions.
Heartbroken Collette McShane was speaking this week after an inquest found that her son Marc Halpin had died due to the effects of the lethal drug, after taking it at a friend's house in Armagh where he had been living at the time.
Marc died in September 2004 after displaying signs of overdose - a rise in body temperature and the onset of convulsions - for an hour. The 20-year-old eventually suffered a seizure and collapsed in unconsciousness.
He was rushed to Craigavon Area Hospital but died a short time later.
Collette, from Tonagh, told the Star she wished there had been an earlier attempt to summon help for Marc.
"If my son had received medical help sooner I believe he would still be alive. If anybody thinks their friend has taken drugs or excess drink and are in a bad way - do not hesitate to call and ambulance and get them help" she said.
She tearfully added: "It takes a braver person to say no. Marc can't talk for himself so I have to - I don't want any family to go through what I and my children have gone through and continue to go through each day."
Collette continued: "Anyone who has taken drugs before should get down on their hands and knees and thank God they are still alive." Marc had been playing chess and having a few drinks with two friends on the evening of Friday September 17, 2004. Coroner Suzanne Anderson heard that he had taken two ecstasy tablets at around 6pm and two more later as well as beer. Shortly after 10.30pm his condition worsened, and he appeared to have what was a seizure. At 12.05am on the following day he was pronounced dead.
Describing the case as the "tragic loss of a young life", Miss Anderson said that it also highlighted the grave dangers of taking ecstasy tablets.
She said that just because someone had taken drugs in the past and not suffered from such consequences, didn't mean that tragedy wouldn't strike.