by JENNY MONROE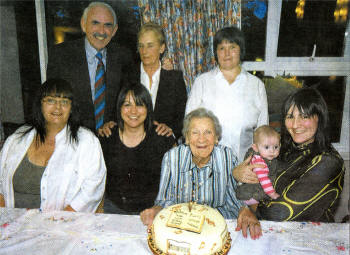 100-year-old Margaret Major with family and in particular young Katie Connor to her left who is 100 years younger! US4107409PM Pic by Paul Murphy
KEEPING fit is what a Dunmurry woman believes has helped her make it to the grand old age of 100.
As she celebrated her special birthday this week, Margaret Major, a resident at Ashley Lodge Nursing Home, part of the Trinity Housing Association, attributed her long life to walking a lot and playing games.
Asked why she thought she has lived a long life Margaret said: "Walking is your answer. Being employed in Linenhall Street and living in Springfield I walked up and down the Grosvenor Road four times daily.
"My first game was hockey. I joined the old Harmony Club - we played at Ligoneil. Our changing room was a potato shed. Although I enjoyed hockey I don't remember scoring any goals so we decided to try golf. I enjoyed it very much and walked into Bangor ti the course at Conlig.
"I also played tennis but at that time the racquets were very heavy so I wasn't very successful. Then came along badminton - yes this suited me down to the ground and I actually got a prize."
Margaret's final piece of advice is: "So get walking and play some games and like me you will attain your 100th birthday."
Caroline Overend, Scheme Coordinator at Ashley Lodge said: "Margaret is such an inspiration and everyone loves her. She still goes on our bus runs and joins in on all activities. She even plays the piano in the common room for the fellowship group."