by JENNY MONROE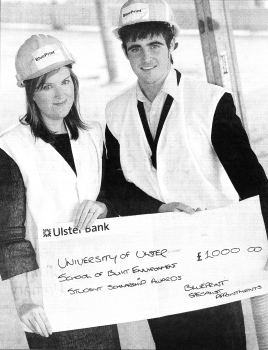 Lisburn's Mark McCourt is awarded his cash prize of £1000 from Clare Vaugh, Manager of Blueprint Specialist Appointments, having been recognised as the leading Quantity Surveyor in first year at the University of Ulster.
A LISBURN student has been recognised as the top quantity surveyor in his first year at University.
Mark McCourt, from the School of Built in Environment at the University of Ulster, was one of only two students to be awarded a cash prize in recognition of their outstanding academic achievements on the completion of first year studies.
The award, was presented by leading recruitment agency Blueprint Specialist Appointments based upon exam work, course-work performance and attendance.
Mark commented: "I'm delighted to have been awarded the prize. It's fantastic to be recognised for your efforts in studying especially in first year when such rewards are usually reserved for working life.
"Being acknowledged by an organisation that is directly involved in placing students in leading construction and engineering companies will hopefully be of benefit to my career when I complete my studies.
"Thanks to the award I've already had to the chance to meet some perspective employers." Designed to help develop the emerging talent of local construction and engineering students, Blueprint's Business Manager, Clare Vaugh, explained why the recruitment specialists have offered such an incentive to those in first year: "Considering the vision of our cities and built environment will be seen through the eyes of people like Mark, we believe such awards will aid the nurturing of local talent and help to enrich the landscapes of our future."