By MARY MAGEE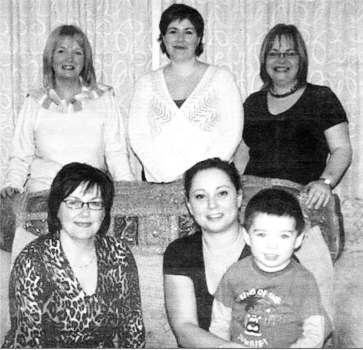 Martina McConville with her son Eoghan with members of the Cardiomyopathy Support Group. They are Ethel Mason, Elaine Scott, Gillian McFarlane, Rosie Mallon, Martina and her son Eoghan. Two other supporters Irene and John Porter from Lisburn were absent.
A DUNMURRY mother of a three year-old boy who suffers from the serious heart condition cardiomyopathy is holding a ball next month in aid of the charity that fights the condition.
Martina McConville, 35, from Dunmurry Lodge, is holding a Valentine's Ball at the Europa Hotel on Saturday February 1, to raise money for the Cardiomyopathy Association, a charity that offers information and support to affected families and funds clinical care.
Martina's son Eoghan suffers from hypertrophic cardiomyopathy, which causes the heart muscle to thicken and can disrupt the heart's rhythm. The condition is the biggest medical cause of sudden death in the under 35s but if diagnosed in time can be treated with drugs and surgery.
Cardiomyopathy is often inherited and following Eoghan's diagnosis it was found that his dad Damian is also affected. Martina said: "When we first discovered Eoghan had this condition and realised the seriousness and the implications for his life we were devastated.
"We began a quest for more knowledge, which took us to the Cardiomyopathy Association. Through the charity we discovered we were not alone and there were many other people in Northern Ireland with this condition and the same concerns and fears. But we also found many of them were getting on with their lives and living a full life.
"We joined the Northern Ireland Cardiomyopathy Support Group which gives sufferers and carers invaluable information and a chance to meet other
affected families and share experiences." She said her aim is now to make more people aware of the condition. In 1992 it killed Welsh international Terry Yorath's 15 year old son Daniel, who was playing football in his garden. In June 2003, Cameroon international Marc-Vivien Foe, a 28 year old player for Manchester City, died from cardiomyopathy while playing in a match against Colombia in France. The condition was also responsible for the death of GAA player Cormac McAnallen nearly three years ago.
Martina continued: "We want to make people more aware of cardiomyopathy and raise funds for the Cardiomyopathy Association which is working hard to save lives, including funding a nurse specialist at the Royal Hospitals in Belfast."
Raffle
Martina, who is arranging the event with members of the support group, hopes the event will attract more than 300 people and raise many thousands of pounds for the charity.
But she said that she still needs more items to raffle. So far the list of prizes include signed boxing gloves donated by Lennox Lewis, an England jersey signed by five Manchester United players, an apartment in Spain for a week and a spa day at International Hair and Beauty in Moira.
"If anyone can help in any way, I would be most grateful," said Martina.
If you can help Martina with prizes or would like to order tickets for the evening, call her on 9060 3449 or email martinahughesm@msn.com.
Tickets are £60 each and include dinner, comedy from Folks on the Hill's Sean Crummy and dancing to award-winning band James Peak Xperience.