Medical memories are the perfect tonic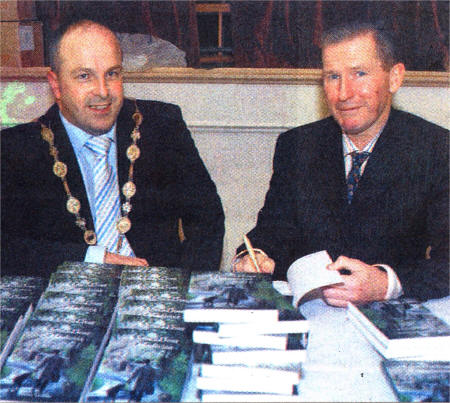 Dr Owen Gallagher at the recent launch of his new book with Lisburn Mayor, Councillor James Tinsley. US4507-355DW
A SPOONFUL of memories is set to provide local people with the perfect tonic as a well known Glenavy GP launches the latest volume of his medical memoirs.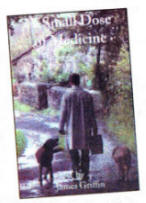 'A Small Dose of Medicine' by Dr. Owen Gallagher is dedicated to the memory of his father John Patrick who was also a well known GP in the area.

Writing under the nom de plume James Griffin it tells of his experiences as a country doctor in the village of 'Clonavon' in the early 1970's.

As in his previous books people's names have been changed to protect their privacy but readers are sure to enjoy the doctor's usual mixture of stories which are both funny and very moving.

All human life seems to lie within its pages and it features characters GPs will immediately recognise.

There's a devoted daughter who eventually has to let her elderly mother be taken to hospital after nursing her at home for many years.

She sends a three page care regime to the ward and is regarded as a nuisance by the staff.

However, she is really motivated by a strong combination of love and devotion to duty.

There's a local businessman who rings the church bells in the village every Sunday. He calls at the doctor's surgery to have a health insurance form completed and makes it plain he has no need for further medical help - despite the doctor's concern about a hernia which should have been dealt with many years before.

The GP's anxiety proves justified when the hernia becomes strangulated and the bell-ringer's screams echo through Clonavon The village's Parish' Priest also plays a part in the book. Dr. Gallagher first gets to know him while serving as an altar boy in his church.

The boy, of course, becomes a man and then a GP. The Canon is eventually forced to seek his help when the agony of a badly infected ingrown toenail becomes too much to bear.

There's Captain Pickering, an airline pilot who fears one of the passengers he has just flown from Heathrow may have Lassa Fever But what is perhaps the most touching story concerns Hughie McStravick and his wife Nellie.

Hughie is suffering from terminal cancer. Dr. Gallagher's description of Nellie's devotion to him during his final hours would, as they say, 'draw tears from a stone'.

The former GP, who now works in the psychiatric field, can see why he has been compared to James Herriott who also used a nom de plume - the vet's real name was

Alf Wight.

"Like James Herriott I found it very difficult to get published," he said. "He ended up shoving his manuscript into a drawer and giving up. It was his wife who came across it a couple of years later and convinced him to try again."

'A Small Dose of Medicine' is published by Lincolnshire based 'Barny Books' and costs £7.99.