LISBURN SOLDIER MELANIE RETURNS FROM AFGHANISTAN
BY JULIE SPENCE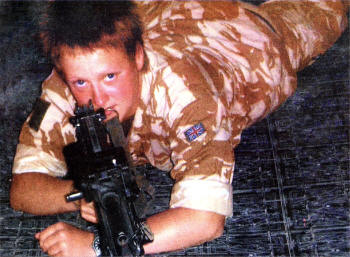 Melanie takes aim while serving in Afghanistan.

A 21-YEAR-OLD Lisburn woman who is the only female in her Royal Artillery battery has spoken of her experiences in Afghanistan during a short break home.
Melanie Crawford, who spent three months in Southern Afghanistan, is a member of 79 Battery, 29 Commando.
Serving with 26 Royal Artillery operating a light gun, Melanie is based in Germany but is back home in Lisburn for a short time to visit family and friends, before she returns to Afghanistan next month.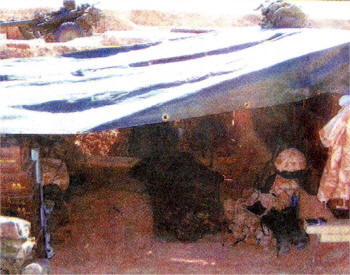 After leaving Laurelhill Community College at the age of 16, Melanie decided to enlist in the army because, she said: "it's something I always thought I would be good at."
Afghanistan was Melanie's first tour of duty and she admits she was nervous before she left. However, she says she was lucky not to come up against too much enemy fire, except for what she calls the 'everyday stuff'.
"We came under the usual motor attacks but there were no close calls, thankfully," she added.
Whilst in Fob Dwyer in Southern Afghanistan, Melanie and her regiment were based in Camp Bastian carrying out duties including patrols and escorting convoys. It was there she got to know some of the locals who are working there.
"They were keen for us to be there," explained Melanie. "They were really friendly and welcoming."
Speaking about her overall experience in Afghanistan, Melanie said: "It was very different. It really opens your eyes to how the other world lives.
"I was nervous at the start but I am not scared about going back out. We are needed there so we have to go back.
"My mum is a bit worried about me going back to Afghanistan but they really support me and they're proud of me.
"At the end of the day it's my job and it's what I want to do."