by MARY MAGEE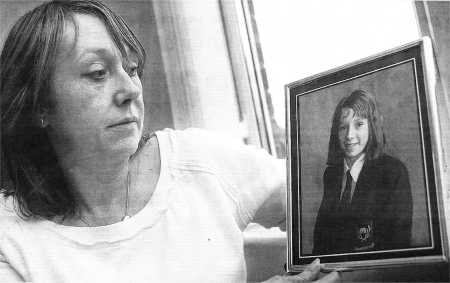 Caroline Alexander with a picture of daughter Laura who was killed in a road accident two years ago. US4707-123A0
WHEN 13-year-old Laura Alexander was killed a road accident in 2005 her parents had to make an immediate decision on donating her organs to give others the gift of life.
They didn't hesitate because the remarkable young Lisburn girl had already told them that if anything ever happened that's what she wanted.
Now her mum Caroline is hoping to encourage others to follow her daughter's remarkable decision by supporting the My Life My Gift scheme which encourages people to join the NHS organ donor scheme.
Laura, a pupil at Laurelhill Community College, made the decision to donate her organs after watching a special edition of Casualty screened as part of Transplant Week in 2005.
Her heart, lungs, kidneys, pancreas and liver, as well as her corneas and sclera, were all donated and helped transform the lives of up to six people.
"When Laura died there was one tragedy instead of six," said Caroline. "We were put in a position and made a decision that Laura would have wanted us to make and that was to help others. I would like to think that had Laura been in a position where she needed an organ donation and fighting for her life someone out there would help her. It was quite an adult decision for Laura to have made."
Caroline said that organ donation is something a lot of people do not want to think about. But she said: "Talk to your children and your next of kin. I myself have carried a card for the past 20 years. The big thing is to discuss your decision with your family.
"You can put your name in the register and carry a card but the ultimate decision will be made by your next of kin. It is such a big thing."
Since Laura's death Caroline has received a number of thank-you letters from the people who received the organs.
They include a 17 year old boy who received her kidney. In the letter he says that as a result of the donation he can now eat and lead a normal life.
Six weeks after Laura's death Caroline got a letter from the family of a little girl who received Laura's whole digestive system. The girl had 40 operations and the donation has totally transformed her life.
A nine-year-old who suffers from cystic fibrosis received Laura's lung and she sent a moving thank-you letter to Caroline. Another girl who received a kidney unfortunately died.
"It was heartbreaking to read many of the letters but it makes me proud that she has done this for other people," said Caroline
"Laura was always very selfless. We still miss her deeply today. She was kind, generous and always wanted to help others and not a day goes by when we don't think about her.
"Laura was always bright and intelligent so it didn't surprise me when one day she began to ask questions about organ donation.
"I am extremely proud of the gift my daughter made and knowing that her passing wasn't in vain has made it easier to cope with our tragic loss.
"She would have been chuffed to bits to know that her decision had brought so much good," she said.
Caroline is supporting the UK Transplant My Life, My Gift Mailer initiative which is running throughout November.
As part of the initiative every home in the province is to receive a special leaflet inviting them to join the NHS Organ Donor Register during the month.
To find out more about organ donation and transplantation - or join the register - log on to www.mylifemygift.org or call the Organ Donor Line on 0845 60 60 400.