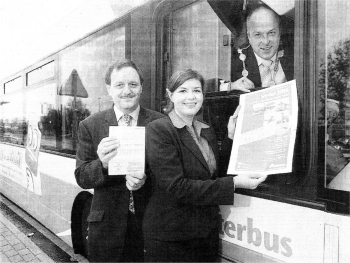 Jim McCauley, Translink Controller for Lisburn, Deborah Matchett, Belfast International Airport PR Manager and Councillor James Tinsley, Mayor of Lisburn.
A NEW bus service between Lisburn and Belfast International Airport at Aldergrove is to start on Monday.
Service 109A will operate hourly from 6am to 6pm from the stop outside the city's railway station.
It will also serve Upper Ballinderry and Glenavy and will offer local air travellers an alternative to driving or getting a lift.
After calling at the airport the bus will continue to Antrim. Lisburn's Mayor Councillor James Tinsley said he was "delighted".
"This new service will enable easier and speedier access to and from the International Airport for many of our residents and visitors. With buses stopping in Glenavy and Upper Ballinderry it will also provide an important link for our rural communities," he added. Translink's local District Manager Martin Lundy said the service would be operated by low floor vehicles which offer easy access for those travelling to the airport with luggage as well as families with small children.
To mark the launch there will be a special introductory fare of a £6 monthly return between Lisburn and the Airport.
"These fares will be available until October 31" said Mr Lundy. "During this period we are also removing the initial £1.50 to purchase Translink Smartlink cards, which means passengers only pay to top up their journeys. Smartlink offers a cost effective alternative for frequent flyers or staff working in and around the airport."
For further information on timetables or to receive timetables in alternative formats call 9066 6630 or click www.translink.co.uk. Passengers with hearing difficulties can contact textphone 9038 7505.