ONCE Hallowe'en is over the preparations for Christmas get underway.
During this busy period Lisburn Museum is holding a variety of events that should provide something for everyone to enjoy.
A programme of lunch time music recitals, organised by Lisburn Historic Quarter Arts Group, is already underway and is proving very popular. These take place on Fridays in the Assembly Room and admission is free. Today's (November 2) is by John Darcy, singer–songwriter.
Next Friday (November 9) Maedbh McGinley will present a piano recital and the series will conclude with another piano recital by John Wilson on Friday November 16. The recitals are from 1pm-1.30pm and those attending can enjoy a bite to eat in Cafe Crommelin afterwards.
Indeed, why not make time for a longer visit and see the Ulster Museum's outreach exhibition 'Ulster Painters 1900-1945' which has been extended by popular request and will now run until early in the new year.
In conjunction with the 'Wild about Lisburn Exhibition' more 'friendly animal' events will be taking place on Saturdays in November. Tomorrow (Saturday) the 'Happy Hedgehogs' will be back to delight the young and young at heart.
Next Saturday (November 10) the 'World of Owls' will pay a visit.
Colin Glen Trust staff will be at the Museum on Saturday November 17 to provide information and advice about conservation issues.
People are welcome to visit any of these events or contact the staff at reception on 9266 3377 for more information.
A new exhibition 'Early Irish Damask Linen' has opened in the Assembly Room for a three week period. Everyone knows that Ireland has a world wide reputation for its fine damask table linen.
An early 18th century Irish damask linen tablecloth, possibly the oldest one still surviving today, is on display until November 17.
It was hand woven in Waringstown, County Down and is on loan from Winchester City Museum in England.
The cloth is woven as a picture of the coronation of George II and is truly a marvel of craftsmanship.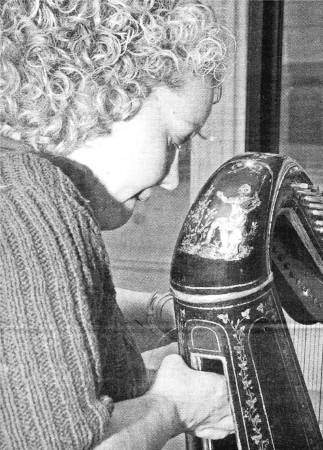 Harpist helps with behind the scenes work
BACK room maintenance work is an essential part of life at Lisburn Museum and Irish Linen Centre.
This ensures everything runs smoothly and is displayed appropriately.
The popular local harpist, Cliona Doris, called in recently to help with efforts behind the scenes by replacing a broken string in the Museum's early 19th century Egan harp.
Earlier this year Cliona played the harp in a public recital in the Assembly Room.
The Museum hopes she will soon be able to make time in her international touring schedule to play at the venue again.
Did you attend concert?

ONE of the Museum's most often requested resources is its copies of the city's former weekly newspapers the 'Lisburn Herald' and the 'Lisburn Standard'. These provided essential reading matter for everyone who wanted to keep up with local events. Do any readers remember attending this concert advertised at Halloween in 1957?