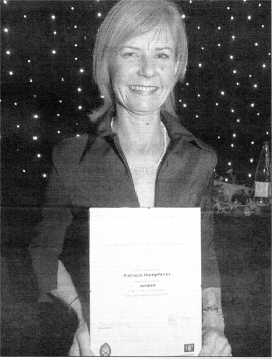 Patricia Humphreys
at the award ceremony in London.
A CHARTERED physiotherapist from Lisburn has been named the Northern Ireland Physio of the Year.
And Patricia Humphreys, who received the award from the Chartered Society of Physiotherapy (CSP) in London on Monday. has gone to great lengths in her job. She recently took part in a tandem freefall sky dive in Garvagh to raise money for her physio department in Belfast's Musgrave Hospital.
Patricia, described by her colleagues as a 'tireless volunteer', is a superintendent of the Physio department and chairs the fundraising committee for the Mitre Trust - a charity which has been responsible for a number of major developments at the hospital. She often uses her free time to raise funds. The charity has helped to build a £3m physio and sports department has helped to organise walks and charity balls - one of which raised £26,000.
WORKED
Patricia, 49, from Limehill Road, has worked at Musgrave since she qualified three decades ago and has been physio lead for the Orthopaedic unit for the past 12 years and now manages 22 staff.
"It is very flattering to receive this and it is lovely to be appreciated by my staff who always go that extra mile," Patricia said. "I would be lost without them. They are all tremendous people.
"But it seems ridiculous to be awarded for something that I truly enjoy."
At the ceremony in London Patricia was given a certificate and £100 of Amazon vouchers which she selflessly plans to buy books with for the unit.
Her colleague Alison Wolseley, who nominated her for the award, said: "Patricia is an expert in her field. As a manager she teaches, motivates and leads by example. She promotes innovation in physiotherapy and always provides a high quality service for patients."