by MARY MAGEE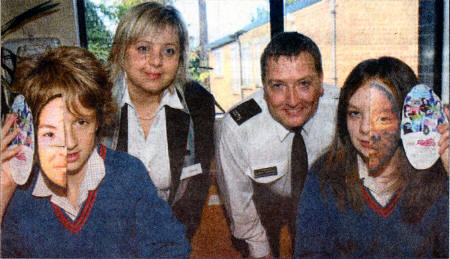 Rhianna Kay and Holly Campbell with Polish police Captain Goska Barska and PSNI officer Samuel Campbell at Hunterhouse College where she gave a talk on Race Hate Crime US4107-508C0
A POLISH police officer who has been working in Northern Ireland for the past three months is urging members of the Polish community to get in touch with her.
Captain Goska Barska, from Zielomagloabora will next week be based in Lisburn, and will be happy to answer any questions that members of the Polish community may have in relation to the law in Northern Ireland.
The fluent English speaker finished a two and a half year liaison officer course run by the European Commission and was drafted to Northern Ireland by the PSNI.
Since July, Goska has been meeting with members of the Polish community and has been based in various police stations throughout Northern Ireland. There arc currently 40,000 Polish people living in Northern Ireland with 15,000 of them living in Belfast alone.
And she hopes that many local Poles will take advantage of her presence and come meet with her.
"I have met and have spoken to a lot of Polish people who have settled here since I have come over here," she said. "The problem many people face are communication problems, many of them cannot speak English.
"I am very happy to meet with anyone who maybe having communication problems and want me to interpret anything for them. Some have complained that they do not get information in Polish and do not understand some aspects of the law. Some are frightened and do not want to commit offences."
Goska leaves Northern Ireland at the end of the month. Anyone who would like to speak to Goska when she is in Lisburn can contact the Community Safety Team at Lisburn on 92600937.