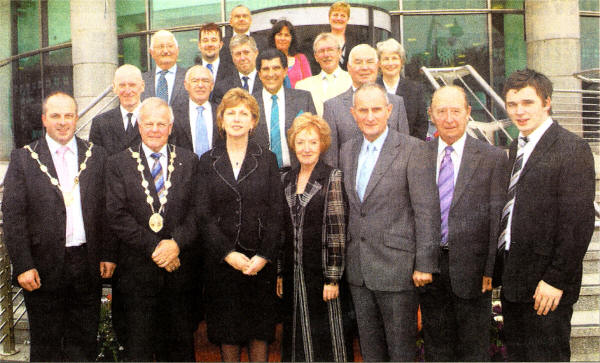 Members of Lisburn City Council welcoming President Mary McAleese and Mr McAleese to Lagan Valley Island on her visit this week.
THE Mayor Councillor Trevor Lunn extended the traditional Irish greeting 'cead mile failte' (one hundred thousand welcomes) to President Mary McAleese when she arrived in the Lagan Valley Island Council Chamber during her visit to Lisburn on Monday.
He told her this was really the extent of his knowledge of Gaelic but added he was sure he spoke for everyone present when he warmly welcomed her to the city. Mr. Lunn recalled how Mrs. McAleese had previously visited Lisburn in the days before it achieved city status and said it had developed considerably since then.
"We are proud of Lisburn and its achievements. It is growing and it is successful and we feel it is now firmly established as Northern Ireland's second city," he added.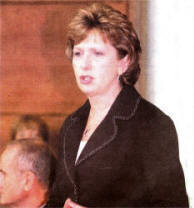 The President, who is a native of Belfast, received a warm round of applause from invited guests when she entered the council chamber along with her husband Martin.
She was introduced to councillors representing every party - DUP, SDLP, Ulster Unionist, Sinn Fein and Alliance - as well as some council officers before taking her position beside the Mayor.
Her speech to the special meeting was of hope for the future but also acknowledged the terrible hurt suffered by many families in Northern Ireland during the past four decades.
She received another round of applause when she finished speaking and then moved on to the civic centre's rotunda to meet representatives of voluntary organisations.
Mrs. McAleese took time to speak to members of each group before entering the Mayor's parlour to face questions from journalists about the significance of her visit to Lisburn and the possibility of the Queen visiting Dublin.
She left the Civic Centre after lunch when she took time out of her schedule to visit her uncle and aunt Pat and Cathy Dorrian who live in the city.
Changes in Northern Ireland 'a powerful message of hope'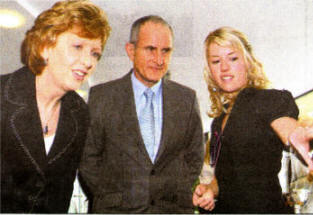 Mary McAleese President of Ireland and Martin McAleese meet Rebecca Leonard of the Fusion Theatre at Lagan Valley Island. US2507-108A0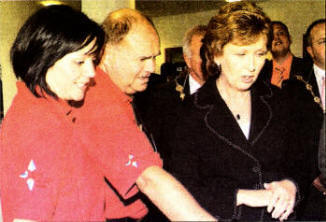 President Mary McAleese meets members of the Atlas centre at Lagan Valley Island US2507-106A0
PRESIDENT Mary McAleese's speech at Lagan Valley Island on Monday was her first to a unionist dominated council.
She told councillors and invited guests it had often seemed as if such a time would never arrive during the nineears since the signing of the Belfast Agreement. However, she now felt a relationship of 'good neighbourliness and practical partnership' was being nurtured between the two parts of Ireland.
She also felt the 'best ever rapport' now existed in every sphere between Ireland and Britain. "Perseverance, courage and leadership have helped this generation to straighten out the skewed relationships that history bequeathed us," she added.
Mrs. McAleese spoke of the 'great reassurance' provided by recent meetings between the Taoiseách Bertie Ahern and First Minister Ian Paisley that a shared and respectful future was not only possible but was already emerging.
She also felt recent events in Northern Ireland sent a 'powerful message of hope' to other societies still mired in conflict and wondering if there was going to be any way out.
"We can at least tell them that patience and persistence do pay off, that courage and a generous spirit of compromise bring out the best in people that old enemies can indeed become good friends."
Possibility of royal visit to Republic growing
PRESIDENT Mary McAleese said during her visit to Lagan Valley Island conditions were 'about as good as they had ever been' for a Royal visit to the Republic.
A first visit by the Queen could come sooner than people think because of the political breakthrough in Northern Ireland, she added.
The strides away from conflict and restoration of a power sharing devolved government at Stormont were 'without a shadow of a doubt' bringing forward the day when a visit could take place.
"One of the things we all have in mind would be to ensure the circumstances are absolutely right," she said.
"They are probably now getting to the point where they are as close to right as they have ever been.
"One of the things we take great pride and great encouragement from is what is happening here in Northern Ireland - that's giving us great comfort."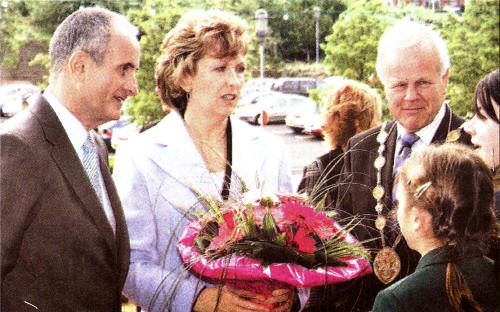 Martin McAleese, President Mary McAleese and Lisburn Mayor Trevor Lunn meet School Children at Lagan Valley Island. US2507-101AO Picture By; Aidan O'Reilly