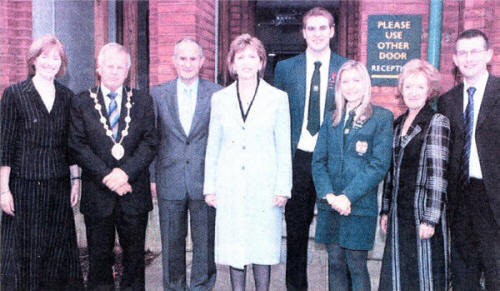 Friends School Principal Elizabeth Dickson, Mayor Trevor Lunn, Martin McAleese, President Mary McAleese, Head Boy Michael Pollock, Head Girl Holly Lyons, Mayoress Laureen Lunn and Chairman of the Governors Aidan Pearson. US2507-111A0
DURING her visit to Lisburn President McAleese told pupils at Friends she remembered visiting the school as a young person to take part in debating competitions. Even then, she said, she was impressed by the name 'Friends' and all that it stood for. Quakers, she added, had worked for peace in Northern Ireland and Friends represented the friendship and harmony needed right across the community.
Mrs. McAleese told pupils they had the skills and qualities to build on the peace that had been formed. She added she was looking forward to the 'new and better society' the next generation would create.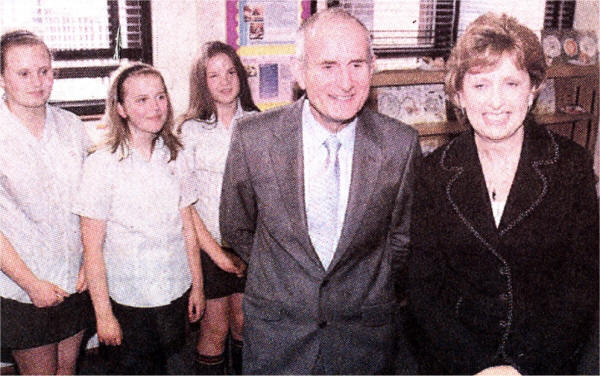 President Mary McAleese and her husband Martin with pupils of Friends School. US2507-114A0
The President went onto meet pupils in the library where members of the School Council spoke about their work. She was particularly interested in their role in policy making. She also met Model United Nations delegates and asked about the work of the nations they represented on global warming.
Teacher Marian Mateer introduced Mrs. McAleese to Alison Clarke who designed the Friends School flag taken recently to the summit of Mount Everest by former pupil Dr. Roger McMorrow.
The President was interested to hear of Marian's experiences when she visited Everest Base Camp at Easter.
Also present were pupils who, along with their Collect Teacher Donal O'Hagan, organised the sponsorship of Ugandan children through the Fields of Life Project. Year 11 pupil Reuben Steenson told Mrs. McAleese about his winning entry in the Sky Young Journalist of the Year Competition.
Music was provided by the Senior Instrumental Ensemble and one of the choirs. She praised their musicianship and said it was a product of not just individual skill but of everyone working together in harmony.
Mrs. McAleese and her husband Martin were accompanied on their visit by the Mayor and Mayoress.
The party was welcomed by Governors Chairman Aidan Pearson, Principal Elizabeth Dickson and Head Boy and Head Girl Michael Pollock and Holly Lyons.

A special call on the relatives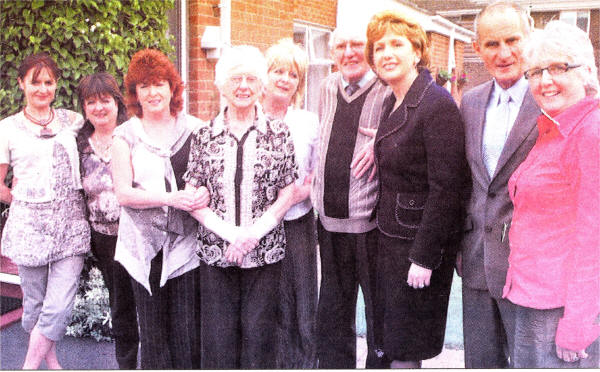 (President) Mary McAleese meets up with relatives in Lisburn. US2507-116A0 Picture By; Aidan O'Reilly
WHEN President Mary McAleese was in Lisburn on Monday she had one very special call to make.
Her uncle is Pat Dorrian, who was an Alliance councillor in the mid 1970s and she went to visit him after the special lunch.
Now 90, Mr Dorrian spoke of his pride after his niece addressed a special meeting of the council.
Mr Dorrian recalled that at the time he was on the council attitudes were 'much more hardline' and he felt Mrs. McAleese's ground breaking speech to a Unionist dominated council was a sign of how the political situation had moved forward.
"I am very proud Mary was up at the Council. It was a great tonic for us," he added.
"I am really impressed with the way the situation has progressed. It is much more mellow now than when I was a councillor.
"In those days things were very orange and green. There really was no in between."
Mrs. McAleese and her husband Martin took time out of their busy schedule on Monday to call with Mr. Dorrian and his wife Cathy.
The couple said they thoroughly enjoyed the visit as their niece's move to Dublin meant they now saw her much less frequently.
They also recalled how the President spent many of her childhood Sunday evenings at the Dorrian family home. Mrs. Dorrian, who is 83, said it was now difficult for her and her husband to travel to Dublin.
However, she said they thoroughly enjoyed visits they had made to Mrs. McAleese's official resident in Phoenix Park Aras n'Uchturain including one very special gathering. "She held a great big party of us all - her 60 cousins as she calls us. It was a really wonderful occasion," Mrs. Dorrian said.

'Proud day' for St Colm's
| | |
| --- | --- |
| | |
| Donna-Marie McParland is presented with a Certificate of Exellence by President Mary McAleese on a visit to St Colm's Also pictured is principal Imelda Jordan Pic Mal McCann | President Mary McAleese and her husband Martin are greeted by head boy Paul Cassidy and head girl Lisa Donaghy at St Colm's HS Pic Mal McCann |
THE Principal of St. Colm's High in Twinbrook described Mary McAleese's visit on Monday as 'a very proud day for the school'.
Mrs. Imelda Jordan said parents, pupils and staff had been 'delighted' to have the President in their midst. Mrs. McAleese presented certificates to pupils which recognised achievements in terms of work, behaviour and general attitude.
"She very kindly joined the platform party on the stage and presented each individual pupil with their certificate," Mrs. Jordan continued.
"Photographs were taken and then she addressed the pupils and parents. "I have to say this was a very warm and inspirational speech. It encouraged and motivated the young people to live out the school motto by doing their best."
Before leaving St. Colm's Mrs. McAleese had one final duty to perform.
She presented a trophy to pupil Peter Brady who achieved success for Ireland in the European Boxing Championships which took place last weekend.
Mrs. Jordan also paid a warm tribute to the Mayor Councillor Trevor Lunn. She said his presence along with that of his wife Laureen had also made the day "very special.
"They have been great supporters of the school and it was nice they took time to come here with President McAleese during the last few days of his Mayorship," she concluded.

President speaks of visit to Messines with DUP councillor
PRESIDENT Mary McAleese spoke movingly at Lisburn Council on Monday of a recent visit she made to Messines in Belgium along with Lagan Valley DUP MLA Alderman Edwin Poots, who is the province's Minister for Arts, Culture and Leisure.
She explained they had visited the site of the First World War battle during which the 36th Ulster Division and 16th Irish Division "sacrificed their lives in hundreds and thousands.
"It was very moving on that day to have the two jurisdictions represented," she added.
Mrs. McAleese said because of the turbulent times in Ireland which followed the First World War these memories had been 'stored in shoe boxes' but had now been restored to the respect they deserved.
She also spoke of a nationalist soldier in the battle, William Redmond of the 16th Irish Division, who was mortally wounded in the fighting.
"As he lay dying he was held in the arms of soldiers from the 36th Ulster Division," she added. On a different note the President spoke of how impressed she was by the Lagan Valley Island Civic Centre.
She explained it was the first time she had seen the building but had "heard a lot about it". "One of the things about being President is you get to visit a lot of council chambers," she added. "I have never been 'in a council chamber as beautiful as this. You have cornered the market in beautiful. This is an absolute credit to all those who planned it.".
She recalled how her uncle, Pat Dorrian had been a member of Lisburn Council and referred to the Civic Centre's location on the banks of the River Lagan.
This was also symbolic, she said, as she had a "special affinity with the Lagan".
"My mother's family come from Slieve Croob which is the source of the river," she explained. However, the President's links with Lisburn's annual Half Marathon and Fun Run are even more immediate.
"My husband Martin is a former participant in the Half Marathon and he tells me it was one of his greatest triumphs," she said.