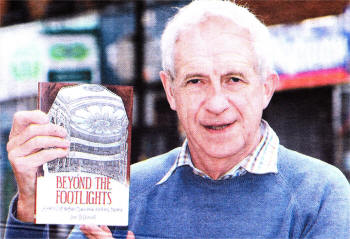 Jim McDowell with his book Beyond the Footlights.
A GOOD theatre mystery is always popular, but a former Lisburn head teacher has come up with a real life cracker.
Jim McDowell, who was principal of Old Warren Primary School for 21 years, is asking local historians to help him solve the mystery of the location of a Lisburn theatre over 230 years ago.
Jim was researching his book 'Beyond the Footlights - a History of Belfast Music Halls and Early Theatre' when he came across advertisements for a theatre in Lisburn in 1775.
But as a teacher and researcher Jim has never come across any other mention of the theatre and is keen to find out more.
I was following a trail of references to Belfast Mill Gate Theatre 1768-1788," he said. "I knew it had fallen on hard times and was looking for an advertisement indicating its reopening.
"I was trawling through microfilm in the Newspaper Library when I found it in the Newsletter of November 14 1775. Then my eye caught an advertisement immediately below for a theatre in Lisburn."
The advertisement read: 'Tomorrow evening will be performed the historical tragedy of King Richard the Third to which will be added the crime come Opera of the Padlock.' Following the custom of the time, and rather like the cinema days when there was always a B film added to the Big Picture, the Lisburn theatre followed suit with two productions," he said.
"Interestingly on November 7, 1775 it was a pantomime entertainment the 'Enchantress' or 'Harlequin Triumphant.'"
Jim's new book looks at the beginnings of theatre in Belfast from 173 to the present day. Packed with personal anecdotes it details of unusual happenings and mentions the greats who came to perform including th young Charlie Chaplin and a youthful Julie Andrews. But the mystery the Lisburn theatre remains to be solved.
"There must be a local historian who can help me," said Jim. "There must be a story there."
What Jim also does know is that the theatre was described as state of the art, well established and well distinguished building and in a September 7, 1775 edition boasted of good property scenery."
Anyone who think they can help asked to ring Mary Magee on 92679111 or email mary.magee@jpress.co.uk