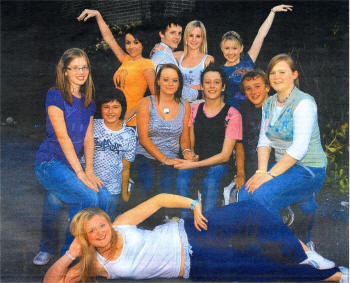 Amy Buriney, Klan Zomorodian, Rea Campbell, Jamie Baird, Louise Watson, Christina Lenzi, Aaron Lyttle and Heather Vient (on ground) prepare for Lisnagarvey Youth Society's production of The Boy Friend, which will be staged at the Island Hall on August 29 and 30. US3407-371DW by Donnie Wright
SOME of Lisburn's most talented young people will be taking to the stage of the Island Arts Centre on Wednesday August 29 and Thursday August 30 for Lisnagarvey Youth Society's annual production.
This year Lisnagarvey Youth Society are staging The Boy Friend, a nostalgic and amusing musical comedy written by Sandy Wilson.
It is carnival time in 1926 and the charming young pupils of Mme Dubonnet's finishing school have only one thought in their minds; to have a 'boy friend' - all except Polly Browne (played by Jenna Green). She meets Tony (played by Rea Campbell), a messenger boy, and they fall in love, but Polly tells him she is poor, and is in fact Madame Dubonnet's secretary. Polly's father, Percival Browne (Conor O'Neill), comes to visit his daughter, and discovers to his dismay that Madame Dubonnet (Louise Lemon) is the girl he had an affair with on Armistice Night in 1918. Madame Dubonnet is as amorous as ever but Percival is not so keen.
Hayley Spence plays the ever flirtatious Dulcie and the successful duo of Laura Higginson and Aaron Lyttle play 'Madcap' Maisie and Bobby Van Husen. Louise Watson, Amy Burtney, Kian Zomorodian, Callum Curry and Jamie Baird play the supporting roles, with Heather Vient as the fiery tempered, but loveable maid, Hortense.
The whole story is set against the background of the froth and fun of the Flapper period - full of foot tapping tunes and light hearted dialogue.
The Boy Friend will be setting up its deckchairs in the Island Hall on Wednesday August 29 and Thursday August 30 at 7.30pm. The show is being directed by Alison Green, with Geoffrey Cherry as Musical Director and Choreography by Gillian Algie. Tickets are available from the Island Arts Centre Box Office on 9250 9254.