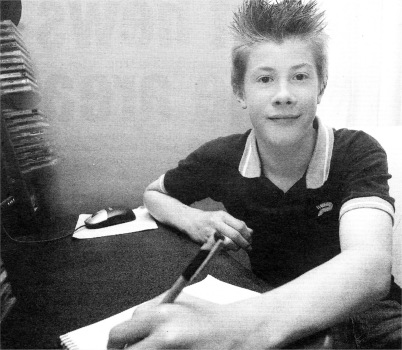 Recently crowned Sky Young Journalist of the Year Reuben Steenson. US2407-404PM
A LISBURN teenager has proved he is one of the UK's most talented young reporters by winning a nationwide competition organised by broadcasting corporation 'Sky'.
Reuben Steenson, a year 11 pupil at Friends' School who lives at Rathvarna Drive entered the television category of the Sky Young Journalists National Competition with an idea for a feature about rising house prices in Northern Ireland.
Not only did he win his section, he also came first overall which is quite an achievement considering hundreds of entries were submitted by people aged 14 to 19 from all over the UK.
Reuben, who first heard about the competition at school when his entire journalism class submitted entries across the three categories of television, radio and print explained how he chose house prices as a topic.
"I heard a lot of people talking about house prices and saw articles on local television about the issue," he said.
"My idea had to focus on a local news story and I thought house prices would be very relevant.".
Reuben was due to receive his prize at Sky's London studios on Thursday morning after he and his mother Wendy travelled to England on Wednesday afternoon.
Along with the other winners and runners up he took part in an exclusive workshop with Rob Kirk, Sky News Editorial Development Manager and enjoyed a tour of the studios.
He and the other category winners were also presented with a video phone but as overall winner his piece de resistance was a new iMac worth £1700 for Friends' School.
Through this competition Sky aims to give aspiring young journalists the opportunity to have their work viewed by the nation and inspire them to pursue a career in news journalism.
It has the support of a number of the Sky News team including the current presenter of Sky News Sunrise and well known TV personality Emanon Holmes, and presenter of Sky Lunchtime Live and recent contestant on ITV reality television show 'Dancing On Ice Kay Burley. Kay said: "I am really pleased that through this competition young people are given the opportunity to show their talent helping them take their first steps towards e career in news journalism."

Reuben's outline for a TV feature on rising house prices
Recently, house prices across Northern Ireland have rocketed more than anywhere else in the UK. Here are my suggestions for an interesting way to cover this news story and the problems it presents.
Interviews needed : A first time buyer trying to purchase a house; An investor in property; Estate agent(s); Home owner; In studio, expert on statistics relating to house prices.
Locations: Overpriced house. An interview here; Estate agents; A reporter could go to a house to have a tour and see what they would get for their money; In studio for a few minutes and main story
Spokespeople Typical first time buyer; Manager of major estate agency; Knowledgeable expert on statistics, hopefully able to analyse the situation and explain; Successful investor in property
Angle and additional footage The angle will be based on how this startling rise in prices has made it extremely hard for first time buyers to purchase a new house. The aim of the report will be to find out why this has happened and to discover (through interviewing) the effects this has on many different groups (prospective buyers, existing homeowners and companies such as estate agents)
There could be footage of 'FOR SALE' signs, streets outside estate agents, and the interior of homes interspersed throughout the report and in the background in the studio. This would really set the scene and create a definite effect.
Also, a typical young couple could be filmed in their quest to buy a home. It would be even better if, after screening of the clip the couple were to be interviewed about their experience.