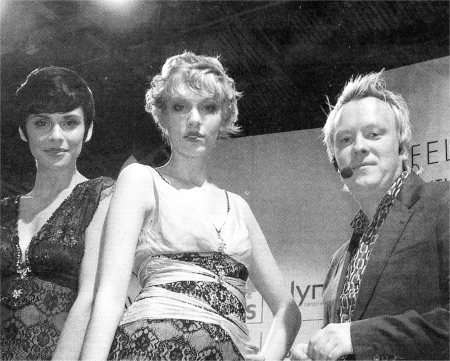 Shane Bennett opened the International Trend Zoom Awards in Berlin.
HILLSBOROUGH hairdresser Shane Bennett was recently in Berlin to open the The International Trend Zoom Awards.
Shane was presenting 2008 hair trends to over 1,200 hairdressers from 27 countries across the globe.
He said: "I was very honoured to represent Goldwell on an international stage and I can honestly say this event has been one of my career highlights. Opening the spectacular event was quite daunting but with the high calibre of professionals working behind the scenes assisting me, we created a stunning show."
Shane kicked off the event with a hair show extravaganza 'Dedicated to Colour Perfection' with six models taking to the catwalk.
"All in all it was a truly amazing production and most importantly the hair trends I demonstrated were accepted with huge applause," he commented.
Following his trip to Berlin, Shane then jetted off to London where he was invited to present Goldwell's Trend Worlds at Salon International. The event is the UK's biggest trade show with over 2,000 hairdressers from across the world in attendance.
Shane cadded: "Emerging hair worlds – Nostalgia and Rockmantic – were the themes of my presentation. There's something for everyone this forthcoming season so my advice to clients will be get inspired and prepare for a makeover."